DEWALT 5.0Ah battery technology: For runtime that cannot be beaten
DEWALT® 5.0Ah Battery Features
New 5.0Ah battery packs deliver 66% more runtime than standard 3.0Ah batteries, without compromising size or weight
Launched for use with DEWALT XR® Brushless tool range
Protection against overload, overheat and deep discharge conditions
Backwards compatible with all other XR products of same voltage category
State of charge indicator reassures user of sufficient power to complete applications
The 5.0 Ah feature coupled with the Brushless range render this as the most formidable offering to the target user segments.
DEWALT® has announced the introduction of 5.0Ah battery technology into its professional cordless power tool series. Launching initially to complement the company's range of XR® Brushless tools, the new 5.0Ah battery packs will deliver 66% more runtime than a standard 3.0Ah battery pack without compromising the size or weight of the tool, and will provide the power and convenience for applications where the user demands exceptional runtime to complete their job.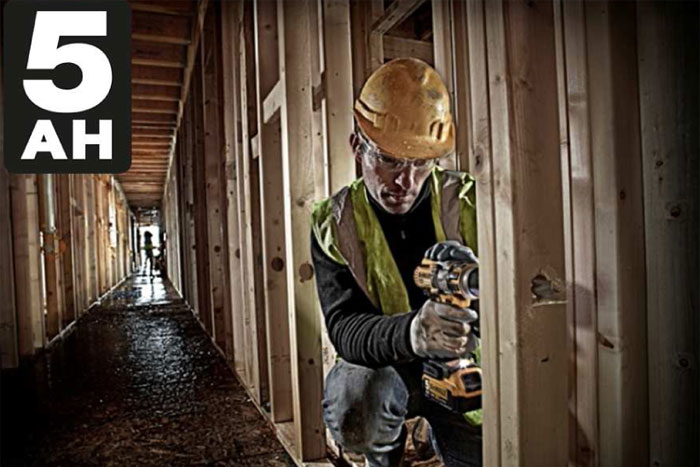 Combined with the intelligent electronics of the DEWALT XR series, the high capacity 5.0Ah battery pack is designed to provide protection from overheating and deep discharge conditions during high-load applications. This increases the battery life and ensures maximum power for users where uninterrupted runtime is critical, such as in isolated construction locations, or difficult conditions where charging is simply not possible and would require valuable time away from the job site.

Narayanan Krishnan, Product Manager said, "Our research has shown that running out of power at a critical moment is the primary frustration for tradesmen and construction professionals today. 5.0Ah battery technology is essential for users who perform high-load applications, or for those working in remote environments or large sprawling developments without easy access to a charging point. With this new battery technology, the need to recharge or replace batteries regularly is eliminated – in fact, in our on-site trials with 5.0Ah technology, users reported the ability to work for two to three days without the need to recharge their pack, giving them the ultimate confidence in their equipment on site."

For further peace of mind, each DEWALT 18V 5.0Ah battery pack incorporates a convenient state of charge indicator, reassuring the user that they have enough power to complete their job, and further avoiding the risk of being caught out without charge in a vital situation.

The new 5.0Ah battery packs are compatible with all current and previous models of the same voltage in the XR Li-Ion range. Further information on the XR Li-Ion Brushless power tool series can be found at www.DEWALT.ae
The DEWALT XR Brushless range with 5.0Ah technology includes:
| Model No. | Description |
| --- | --- |
| DCD737P2 | 14.4V 5.0Ah XR Brushless Compact Hammer Drill/Driver |
| DCD732P2 | 14.4V 5.0Ah XR Brushless Compact Drill/Driver |
| DCD937P2 | 14.4V 5.0Ah XRP Brushless Hammer Drill/Driver |
| DCD932P2 | 14.4V 5.0Ah XRP Brushless Drill Driver |
| DCD795P2 | 18V 5.0Ah XR Brushless Compact Hammer Drill/Driver |
| DCD790P2 | 18V 5.0Ah XR Brushless Compact Drill/Driver |
| DCD995P2 | 18V 5.0Ah XRP Brushless Hammer Drill/Driver |
| DCD990P2 | 18V 5.0Ah XRP Brushless Drill Driver |
| DCF899P2 | 18V 5.0Ah XR Brushless High Torque Wrench |
| DCH273P2 | 18V 5.0Ah XR Brushless 3 Mode Dedicated Hammer |
| DCH274P2 | 18V 5.0Ah XR Brushless 3 Mode Dedicated Hammer with QCC |
| DCH275P2 | 18V 5.0Ah XR Brushless 3 Mode Dedicated Hammer with Dust Extraction System |
Categories: