New Line of DEWALT Hammer Drills Offer Winning Combination of Technology and Design.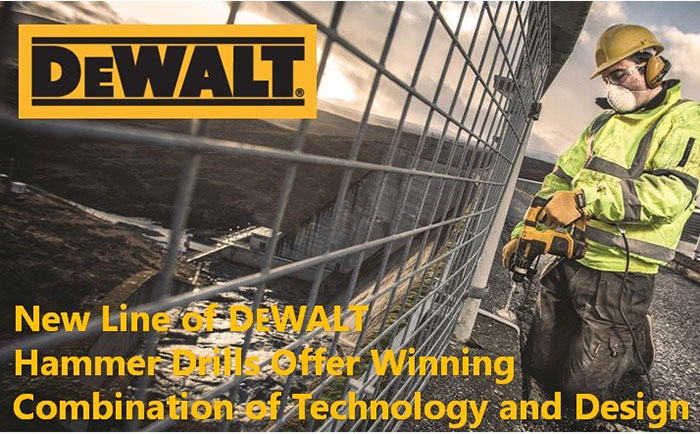 DEWALT proudly announces its new line of hammer drills with Perform & ProtectTM features and award-winning product design.
The new D25721K hammer drill includes the SHOCKS Anti-Vibration Control System, reducing vibration during use. The new D25723K hammer drill includes the same system, as well as a 2-Stage Clutch and an E-Clutch Anti-Rotational Technology that protects the user by reducing power to the tool in a bind-up situation. The E-Clutch Anti-Rotational Technology is the first of its kind and when coupled with DEWALT's 2-Stage Clutch, offers the most extensive solution in tool control from DEWALT.
The DEWALT Perform & ProtectTM line of power tools is designed to provide a high level of one or more of the following: control, dust containment, or low vibration, without sacrificing performance. Since initiating the Perform & Protect system in fall 2012, DEWALT has positioned itself as an industry leader in manufacturing professional products and solutions that address health and safety on the jobsite.
DEWALT Wins Red Dot Product Design Award
The D25052K SDS-Plus Rotary Hammer Drill, one of the SKUs in the new line of hammer drills, earned a Red Dot Product Design Award. The most impressive achievements in international product design are awarded with the Red Dot Award, and under the 2014 slogan "In Search of Excellence," DEWALT faced ambitious competitors, contending against 1,816 manufacturers, designers and architects from 53 nations for the Red Dot seal of quality.
The D25052K hammer drill represents a new category for DEWALT hammer drills with a lightweight but powerful solution for professional users, and class-leading vibration of 7.9m/s² reinforcing DEWALT's Perform & Protect strategy of delivering high performance and safety options. The D2505K is quickly gaining new ground and market share for DEWALT in the global hammer segment.
DEWALT offers an extended 2 warranty package on the entire range of hammer tools which covers an extended tool protection plan from date of purchase of the tool. The Plan covers:
Wear & Tear
Manufacturing defects
Defective Materials
Service Cost Parts & Labour
Genuine DEWALT parts & retesting
Brush change
General Wear & Tear
This gives the customer a complete peace of mind as there are no hidden costs and better financial planning.
For more information, please contact Almas Dedanwala – Brand & Comms Manager at DEWALT Industrial Tools, Stanley Black & Decker, Middle East office on
[email protected]