DEWALT sets new standard in precision oscillating category with cordless XR Brushless Multi-Tool
DEWALT® has introduced the DCS355 series, a cordless Multi-Tool system based on its XR® Lithium-Ion Brushless platform, setting new standards in performance and versatility within the professional oscillating tool category.

Designed for intricate jobs that require power and precision, the new DEWALT cordless Multi-Tool system offers extensive functionality and a ground-breaking design, solving the frustrations often associated with traditional oscillating tools, such as size, runtime, performance and control.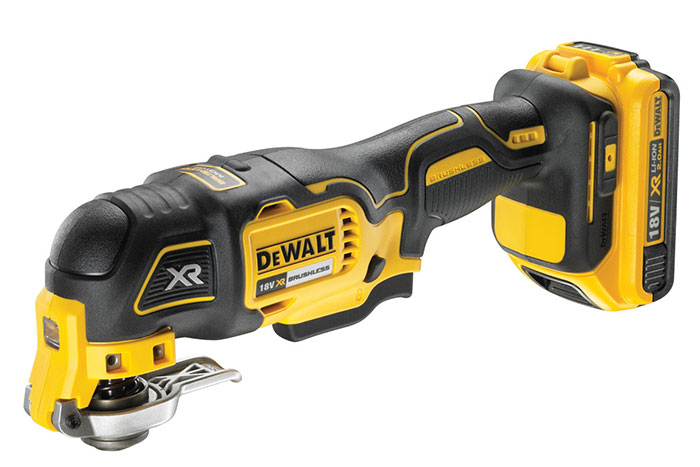 The compact but powerful 300W motor delivers 0-20,000 oscillations per minute for fast and exact cutting requirements. Furthermore, the reduced size of the brushless motor enables a slimmer, well-balanced tool structure, making it easier to handle and control than competitive products.

As one of the latest products to incorporate XR Brushless technology, the cordless Multi-Tool offers unrivalled runtime, and is compatible with both 2.0Ah or 4.0Ah capacity DEWALT Lithium-Ion battery packs. These batteries are interchangeable with more than 30 tools now available in the XR cordless system.

For applications where a softer start or a range of different speeds is required, the highly-responsive, variable-speed trigger – combined with dual grip handle and quick and easy depth stop adjustment – enables complete control over the task in hand. In addition, the ergonomic contoured rubber over-mould ensures comfortable operation, even during prolonged use.

The Multi-Tool has also been designed to improve visibility in tight or dark spaces with the addition of a bright LED light, which illuminates the workspace for more accurate cutting. Additionally, for more efficient dust management, the tool is compatible with the DEWALT Airlock quick-fit dust extraction system, resulting in less mess and debris, providing a clearer view of the working area, as well as reduced clearing up time during and after the job.

Designed for an extensive range of professional uses, the DEWALT Multi-Tool's unique quick-change accessory system features a multitude of attachments, with tool-free, single-handed operation for quick and easy change-over between applications, such as:

Precise cutting of skirting or drywall
Clean grout removal
Cutting heavy fabrics, vinyl and flooring
Accurate cutting of construction timber
Preparing a range of surfaces
Detail sanding
Removal of adhesives or sealant residue
Clean and flush cutting of metal or plastic pipes
Naryanan Krishnan, Product Manager said, "The DEWALT cordless Multi-Tool offers an outstanding solution to professional users for an almost unlimited range of cutting, scraping and sanding applications. With its compact size and 300W motor, this is a powerful oscillating tool that fulfils the requirements of any professional tradesman – enabling them to complete the most demanding or awkward of jobs with extraordinary precision and control, as well as providing the convenience of a cordless unit with unbeatable runtime with the advent of Brushless motor. The quick-change accessory system also ensures that no time is wasted on site switching between tools. It's an essential and comprehensive addition to every tradesman's toolkit."
Why DEWALT Brushless technology?
The motor within a standard professional power tool contains small carbon brushes, which generate friction as the motor spins. This results in precious energy from the battery being lost as heat. The DEWALT XR Brushless motor dramatically reduces this wasted effort, meaning more energy from the battery is committed to the actual application – giving the user a huge increase in the runtime of their tool. A cooler running Brushless motor will also last significantly longer, as it endures less damaging exposure to heat, therefore extending the life of the product.
DEWALT XR Brushless Li-Ion Multi-Tool – features at a glance:
Cordless oscillating tool designed for a multitude of professional cutting, scraping and sanding tasks
Latest generation DEWALT XR Brushless platform featuring 2.0Ah or 4.0Ah Lithium-Ion battery technology for extended runtime
Compact 300W motor delivering 0-20,000 oscillations per minute for fast and precise operation
Variable-speed trigger with soft-start feature
Ergonomic dual-grip for ultimate application control
Contoured XR handle design with rubber over-mould for optimal balance and improved comfort over extended periods
LED light to illuminate the workspace for accurate cutting and improved visibility
Quick and easy depth control adjustment provides additional control for detail work
Quick-change, tool-free accessory change system holds accessories in multiple positions
DEWALT Airlock dust extraction attachment allows dust removal in sanding and cutting applications
Battery packs interchangeable with more than 30 tools in the XR system
Accessories designed to fit professional competitor products
Categories: