World's First High-Current Spring-Clamp Terminal Block up to 185 mm²
Innovation especially for energy-intensive applications: WAGO is expanding its POWER CAGE CLAMP screwless high-current product program for conductors up to 185 mm².
Time-saving, maintenance-free, vibration-proof: Now, conductors with cross sections of 50 mm² to 185 mm² can be connected without any screws with the high-current spring-clamp terminal block (285-1185).
The new 285 Series POWER CAGE CLAMP is designed for a nominal current of 353 A and a rated voltage up to 1,000 V AC/DC and up to 1,500 V DC, making it ideal especially for energy-intensive applications, such as in the mechanical and systems engineering field or in the energy sector.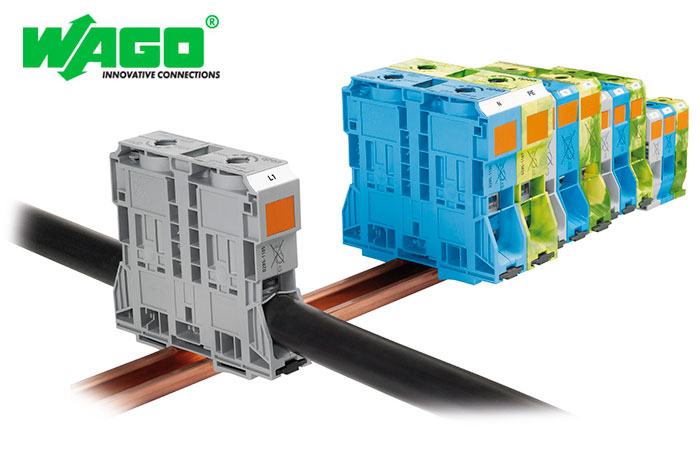 Simple Handling, Maximum Reliability
The 285 Series' lateral conductor entries enable easy insertion and connection of difficult-to-bend conductors. The connection point is opened using an operating tool and locked by pressing the orange locking element. There is no need to prepare the core wires using ring crimp terminals or ferrules.
Spring clamp technology ensures an optimal contact force with any cross section, regardless of the care taken, or lack thereof, by the installation personnel. This high-current spring-clamp terminal block fulfills the most stringent requirements, including those specified for rail transport and shipping, and is vibration-proof and resistant to heat and cold, even under the heaviest of loads.
Commoning and Marking
Both potential multiplication and potential tapping can be implemented via a jumper slot on each side of the terminal block. In this way, supply voltage can be tapped for light and service outlets, for example, without the need for any additional terminal blocks.
The new 285 Series products can also accommodate both WMB marker cards and marking strips to provide an improved overview of the layout in control cabinets.