Gripple facilitates BIM with launch of Data Library
Construction products manufacturer, Gripple has moved to make the facilitation of BIM (Building Information Modelling) on building projects even simpler with the launch of its data library, giving contractors, consultants and architects access to its library of Autodesk Revit files and technical support materials.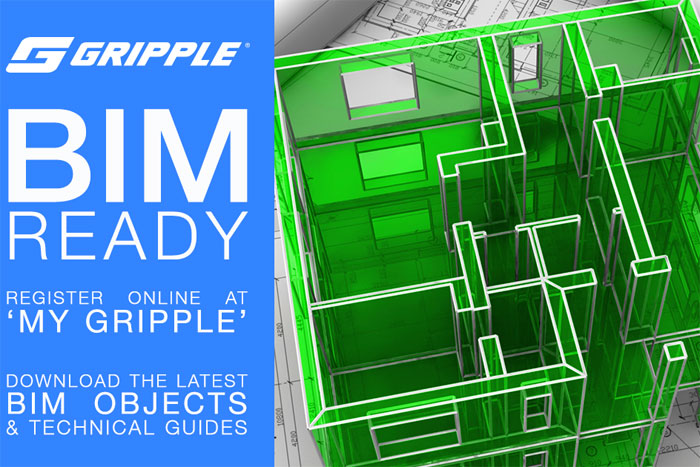 Accessible online via the company's 'My Gripple' login area, customers can register for access to Gripple's data library, which will allow users to view and download Gripple' innovative range of products as digital objects which can be placed directly into digital building models.

The global construction industry has seen a steady rise in the adoption of BIM – a digital, collaborative process for creating and managing information on a construction project across the project lifecycle – with a number of government-led mandates across Europe on public sector projects being enforced over the past 2 years. BIM is designed to encourage collaboration across the entire project supply chain, allowing projects to run in a more timely and effective manner, while reducing costs and improving carbon efficiencies.

Alongside Gripple's data library, the business continues to grow its global technical services function, with dedicated teams in UK, France, USA and India now providing support for consultants and contractors across over 80 countries the business operates in.

Frazer Belafonte, Gripple's Technical Services Manager, said: "We offer a lot of technical support for our customers which we're now delivering on a daily basis in the form of our installation design service, CPD presentations, BIM consultation, embodied CO2 assessments, BREEAM accreditations and on-site support. The data library is the next natural step in improving the availability of our data and making it even easier to use the Gripple system on BIM projects."

Gripple's wire rope suspension systems offer a time, cost and more labour efficient solution for suspending building services, when compared to traditional methods, with the system in use on high profile construction projects across the world. The business, with headquarters in Sheffield and additional sites in Chicago, Obernai and New Delhi, recently celebrated the sale of its 600 millionth unit.

Frazer Belafonte added, "We are always looking to improve the service we offer our customers and the data library is the first stage in our plan to facilitate BIM projects. The synergy between the benefits of utilising BIM and the benefits of the Gripple system are very clear to see so we're excited to see how we can further develop our BIM support in the future."

Customers can register for access to the Gripple Data Library by visiting www.gripple.com and selecting 'My Gripple' from the homepage menu.
Categories: