About FLIR T1K
FLIR T1K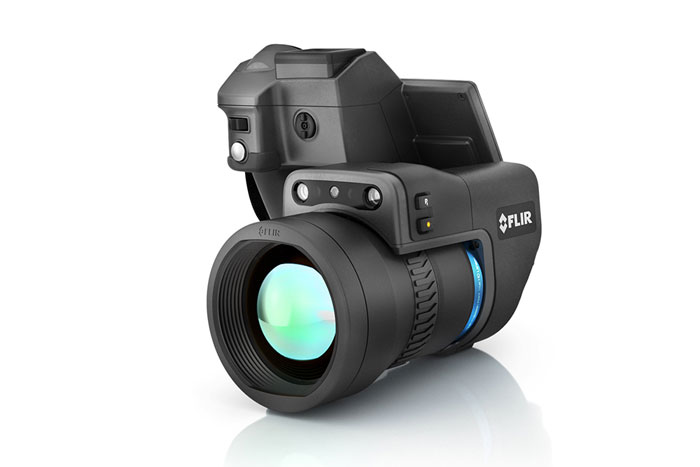 FLIR T1K infrared cameras are designed for thermography experts who need the highest quality without compromise. With full HD resolution, outstanding thermal sensitivity, and lenses built from the ground up, the T1K raises the bar on performance.


Exceptional Measurement Performance
When you need the most accurate temperature measurements, from wide-angle to telephoto

FLIR OSX™ Precision HDIR optical system provides the highest fidelity imagery in the industry, and the ability to pin-point the smallest anomalies from farther away
Unique optical path architecture prevents heat sources outside the field of view from skewing temperature readings
FLIR ambient temperature compensation system uses multiple sensors to help ensure correct measurements, whatever the conditions
Continuous autofocus and manual focus modes, plus dynamic focus control adjusts to your touch, customizing to the way you work
Outstanding Image Clarity
An extraordinarily sensitive detector, enhanced by FLIR Vision Processing™

FLIR image processing technology delivers the best, most detailed, and smoothest images with the least amount of noise, thanks to MSX®, UltraMax™, and our proprietary adaptive filtering algorithms
1024 × 768 detector offers more than 750,000 temperature measurement points per image, and more than 3.1 million with UltraMax™
MSX® patented multi spectral image enhancement embosses visual details onto the full resolution thermal image, providing perspective to the scene and allowing you to read text and labels
Thermal sensitivity of <0.02° C, more than 2× better than the industry standard for low noise imagery
Ease of Use
Compact design, rotating optical block, and responsive user interface take the strain out of site surveys

Compact, streamlined design takes the stress out of a day-long list of inspections
The bright LCD, high resolution viewfinder, and 120° rotating optical block put any target within comfortable viewing range
Four programmable buttons, two programmable measurement functions
Backed by the best protection for any infrared camera, with a 10-year detector warranty
Powerful Radiometric Reports
From wireless connectivity to one-click instant reports, the T1K makes your daily work easier

Radiometric recording of full resolution video at 30 Hz allows for dynamic post analysis
Images are captured in FLIR's radiometric JPEG format, allowing you to measure the temperature of every pixel, as well as refine levels and change palettes during post processing
Add voice comments via Bluetooth headset, or add text notes and sketches to images through the touchscreen keypad
One click Rapid Report™ generation streamlines your reporting and analysis work flow
Wi-Fi communication with other smart devices for fast image sharing, remote control and viewing, and quick reporting from the field

News archive:
FLIR Systems Releases Groundbreaking High Definition Handheld Thermal Camera (8 Sep 2015)
07 00 00 - Thermal and Moisture Protection
07 20 00 - Thermal Protection
21 00 00 - Fire Suppression
22 00 00 - Plumbing
23 00 00 - Heating, Ventilating, and Air Conditioning (HVAC)

Categories: thermal imaging, thermal camera.