About FLIR MR160 Imaging Moisture Meter
FLIR MR160 Imaging Moisture Meter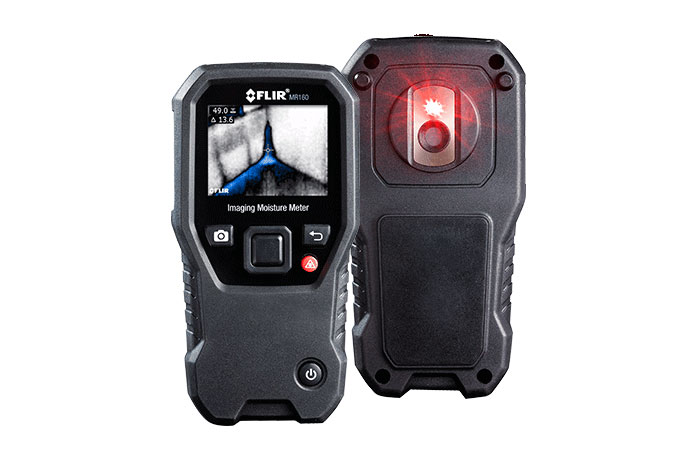 The FLIR MR160 is the only moisture meter with the power to show you where to measure the problem. Featuring Infrared Guided Measurement (IGM) technology powered by a FLIR Lepton® thermal imaging sensor, MR160 helps you quickly see temperature patterns that point to potential hidden moisture so you know right where to place the meter probe to capture accurate readings.


Identify and Verify Moisture Issues with One Tool
MR160 is your go-to troubleshooting tool right out of the box: Identify cold spots with the built-in, 80×60-resolution thermal imager to locate areas of moisture. Verify the actual moisture level using the meter's pin and pinless moisture measurement functionality. Capture thermal images and moisture readings on one screen, then generate reports with free FLIR Tools software.


Troubleshoot Quickly
Easily investigate insulation and moisture issues using MR160's pinless technology or external pin probe for both non-destructive and contact measurements.


Portable, Tough, Durable
The rugged design, small form factor, and internal rechargeable battery makes the FLIR MR160 a convenient tool to carry with you wherever you need it.



News archive:
FLIR Releases Innovative Thermal Imaging Moisture Meter (7 Jul 2015)
02 25 00 - Existing Material Assessment
07 00 00 - Thermal and Moisture Protection