About FLIR Ebx-Series
FLIR Ebx-Series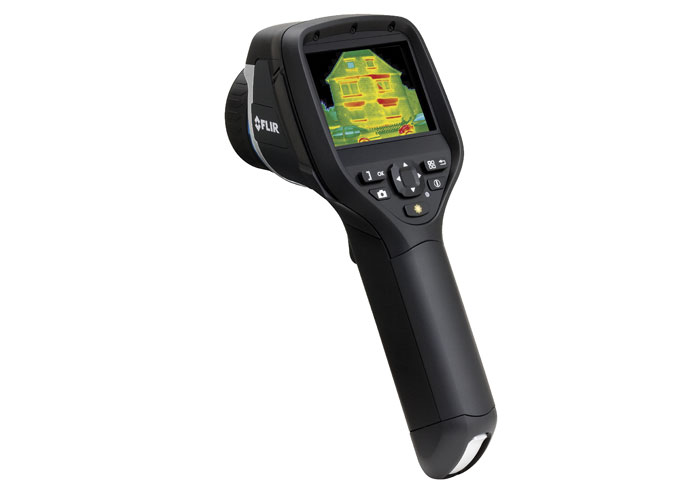 Lightweight design, Heavyweight performers
The FLIR Ebx-Series are small and lightweight thermal imaging cameras designed for those needing higher resolution and more features and for whom documentation of findings are important.
The FLIR Ebx-models include the features you need to make well informed building decisions like built-in insulation and dew point alarms. The cameras are specifically designed for building inspections such as, HVAC heating and cooling issues, air flow, moisture detection, insulation problems, and much more.
Up to 320 x 240 pixels resolution
The FLIR Ebx-Series thermal image resolution ranges from 160x120 pixels to 320x240 pixels depending on camera model. Every additional pixel means more valuable temperature information to isolate problem areas.
Compact and lightweight
FLIR Ebx-Series models weigh only 825g (battery included).
Extremely rugged
FLIR Ebx-Series thermal imaging cameras with¬stand a 2 meter drop. They are IP54 rated.
High quality visual camera
Visible light camera makes observing and inspecting faster and easier.
Thumbnail image gallery
An easy-to-access thumbnail image gallery helps you to quickly review and find your thermal images.
± 2% accuracy
High accuracy of ± 2% or ±2°C of reading.
LCD touch screen
Large 3.5" LCD color touch screen.
Built-in LED light
The built-in LED lamp ensures quality visual images regardless of job site lighting levels.
Long life battery
With a 4 hour battery life its easy-to-replace Lithium Ion batteries will keep up with your demanding schedule.
Laser Pointer
A conveniently located button activates the laser pointer that will help you associate the hot or cold spot in the IR image with the real physical target in the field.
Picture-in-Picture (PiP)
With the PiP-function it is easy to locate areas of interest.*
Thermal Fusion
Merges visual and thermal images to offer better analysis.*
Instant reports
Create instant reports directly in camera. Easy to copy reports to USB.*
Humidity / Insulation Alarm
The Relative Humidity Alarm alerts you to the areas where there is a risk of condensation. An Insulation Alarm shows the insulation performance of the building structure.
Text and voice annotations
Text comments can be made from a pre-defined list or by using the touch screen. A headset can be connected to make voice annotations.*
Interchangeable lenses
In order to adapt the FLIR Ebx-Series to every situation both wide angle and tele-lenses are available.
WiFi
Connect to smartphone or tablet via Wi-Fi, using the FLIR Tools mobile app (Apple iOS and Android) for processing and sharing results as well as for remote control.

02 32 00 - Geotechnical Investigations
07 20 00 - Thermal Protection
07 21 00 - Thermal Insulation