About FLIR T600bx-Series
FLIR T600bx-Series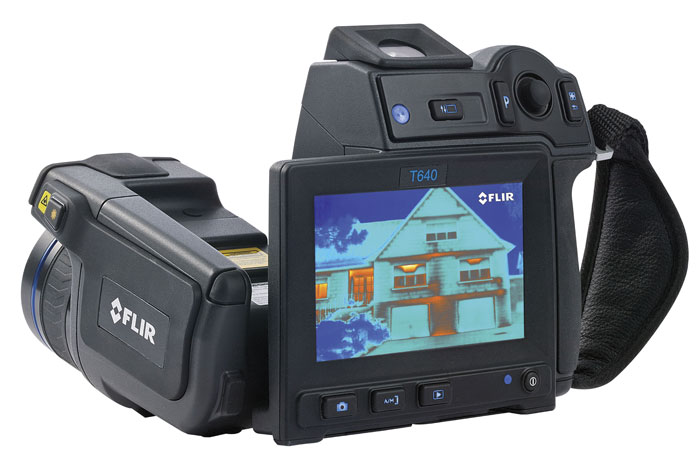 State-of-the-art thermal imaging cameras that combine good ergonomics and flexibility with high image quality.
The FLIR T600-Series offer a crisp thermal image of up to 640 x 480 pixels on which the smallest of details can be seen. The T600-Series is flexible and can meet your every need, and has extensive communication possibilities.
640x480 pixel resolution
The high definition 640x480 pixels detector generates crisp and clear detailed images that are easy to interpret, resulting in reliable inspections with higher accuracy.
High sensitivity
The T640bx allows you to see temperature differences as small as 0.04°C.
Tiltable IR unit
The tiltable IR unit gives you great flexibility and allows you to work faster and in a comfortable position during your inspections.
Large bright 4.3 inch LCD screen
The high quality LCD screen presents sharp and bright images also in outdoor environments.
Viewfinder (FLIR T640bx)
The high-resolution viewfinder is ideal for outdoor use or when the LCD screen is not used.
High quality visual camera
An integrated 5 megapixel visual camera generates crisp visual images in all conditions.
Automatic- and manual focus
The FLIR T640bx/FLIR T620bx have a manual focus on the lens as well as a quick one shot autofocus.
Laser Pointer
The position of the laser pointer is highlighted on the IR-image, which helps you associate the hot spot in the image with the physical target.
Flexible interfaces
Easy access to Digital Video Interface, USB for connecting external devices, USB2 for PC communication and a direct connection to charge the battery inside the camera.
MPEG-4 video
Create visual and infrared non radiometric MPEG-4 video files.
FLIR Thermal Fusion
Merges visual and thermal images for better analysis.
Picture-in-picture
Create an infrared overlay on your visual image.Adapts automatically to different lenses with different field of view. Moveable and resizable.
Touch screen
The LCD touch screen brings interactivity and user comfort to a new level. In combination with the large backlit buttons and joystick control the T640bx/T620bx is very easy to use.
Sketch annotations
Include a sketch with the IR image of the inspected object, just draw it on the touch screen.
Text and voice annotations
Text comments can be selected form a list. A Bluetooth headset can be connected to make voice annotations.
Digital zoom
The FLIR T640bx is equipped with a 1-8x continuous digital zoom and the T620bx with a 1-4x zoom.
MeterLink™
FLIR MeterLink technology simplifies the work in electrical or building inspections by making it possible to transfer, via Bluetooth®, the data acquired by an Extech clampmeter or multifunction moisture meter into the thermal imaging camera. The MeterLink technology saves time and eliminates the risk of erroneous records or notes.
Humidity Alarm/Insulation Alarm
The Relative Humidity Alarm alerts you to the areas where there is a risk of condensation. An Insulation Alarm shows the insulation performance of the building structure. By inputting relevant values into the camera the areas that fail to fulfill requirements will appear as colored.
Wifi
Transfer images wirelessly to a smart phone or tablet PC. Connect directly to the device or via a local network.
NEW FEATURES
Multi Spectral Dynamic Imaging (MSX)
The innovative MSX feature produces an image more rich in every detail than ever before.
Image sketch
Indicate problem areas directly on the thermal image.
Continuous auto-focus
Continuous automatic focus on the object that you are inspecting.
Built-in GPS
GPS allows to georeference thermal images to determine their geographic location.
Compass
The direction in which the camera is looking is automatically added to every image

02 32 00 - Geotechnical Investigations
07 20 00 - Thermal Protection
07 21 00 - Thermal Insulation