Hansgrohe Impresses with Striking Showcase at Downtown Design 2015
Hansgrohe captivated visitors at the recently concluded Downtown Design with a range of innovations – from the pioneering Select technology to the one of its kind iSpecify tool.

The German bathroom specialists showcased a live demonstration of its Select technology with the RainMaker Select collection of appealing overhead showers, the Talis Select range of washbasin mixers and the Select kitchen mixers at the fair held between 27th and 30th October 2015 in Dubai Design District. An updated and refined version of iSpecify, an online specification tool developed in collaboration with leading architectural and hospitality design companies, was also on show.

Located at the heart of Downtown Design exhibition, the Hansgrohe stand was well-appreciated for its layout and design, giving people a first-hand experience of the new products, for the first time in the Middle East.

Dirk Schilmöller, Managing Director Middle East for Hansgrohe commented, "We are delighted to present water in a new dimension to the Middle Eastern customers with the RainMaker Select, Talis Select and the Select kitchen mixers at Downtown Design. The exhibition has proven to be a good platform dedicated to original design and we are happy with the positive feedback that we have received."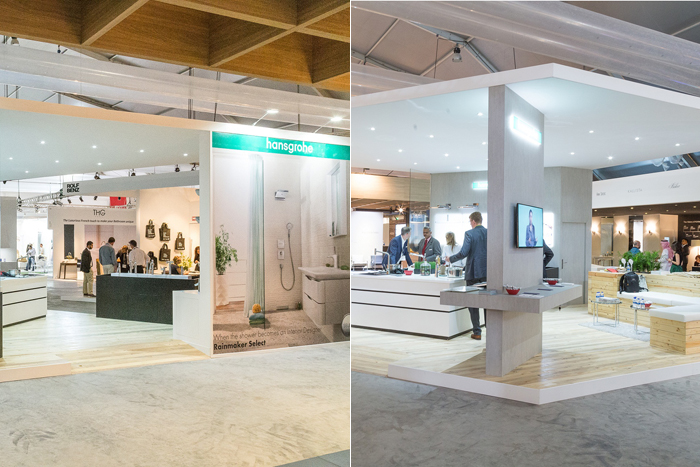 Live display of world-class Hansgrohe offerings appeals to consumers, partners, design enthusiasts and general public
Hansgrohe Exhibit at Downtown Design 2015
With Select, Hansgrohe has been one of the first in the industry to introduce operation at the touch of a button – firstly to the bathroom, and then to the kitchen. The idea underlying the new operating concept, Select, is to move from twisting knobs to using a simple push-button bringing added comfort into the bathroom and kitchen.
The new Rainmaker Select range of overhead showers features a rimless surface framed by a narrow chrome casing giving them an exclusive look and making them suitable for use in any bathroom environment.
The kitchen and washbasin mixers, Metris Select and Talis Select, for the first time combine a pull-out spray head with the Select technology. It increases the operating range around the sink, making work in the kitchen considerably easier.
The Croma Select makes it easy to switch between spray modes at the intuitive touch of a button. The Croma Select family consists of hand showers, overhead showers and shower pipes.
iSpecify, a highly effective day-to-day planning tool, pools together all relevant data with photos or further inspiration from the Hansgrohe and Axor product ranges, which serve to add clarity and authenticity to the designer's vision.
Categories: