Heradesign acoustic panels reduce the noise in the Museum for Contemporary Art
Is it possible to enjoy art in peace in a huge brewery hall without having your nerves frayed by constant echoing? Yes, it is. For proof, look no further than what Heradesign has done in the Museum for Contemporary Art in the Bavarian town of Ottobeuren, the latest destination for the Austrian acoustics specialist's superfinewood wool acoustic panels.

The "Museum for Contemporary Art - Diether Kunerth" opened its doors in the heart of the Bavarian market town of Ottobeuren on 24 May 2014 after two years of construction. Stuttgart-based architects Atelier Lohrer converted the so-called February hall of an old brewery complex to create the two story building.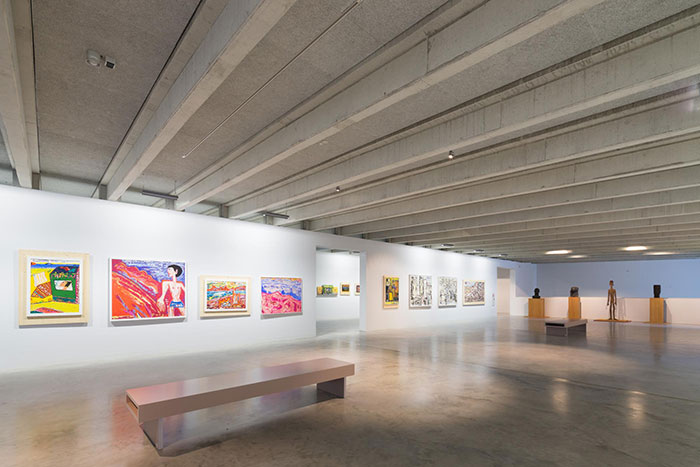 Peace and quiet thanks to 640 square metres of wood wall acoustic panels

Visiters come from every corner of Germany to view Kuhnerth's work, and have Heradesign to thank for the fact that they can do so in peace. The Austrian acoustics specialist from Kärnten convinced the architects to use their superfine acoustic panels. "They are magnesite-bonded wood wool acoustic panels with excellent sound absorption properties. They were installed on the ceiling over an area of about 640 square metres", explained Thomas Wölfer. Heradesign's Head of Sales for Bavaria supervised the museum project and heard for himself how the huge hall got quieter and quieter as the panels were installed.

Volume of ambient noise reduced by 60 decibels

Wölfer explained how the acoustic panels have made it much more pleasant to visit the museum despite being just 25 millimetres thick. "They reduce the volume of an output signal by over 60 decibels in between 0.4 and 0.6 seconds". This rapid absorption is particularly useful when it comes to making it easier to hear speech, particularly at low frequencies. The result: "Visitors can have peaceful conversations with each other, without having to raise their voices. They can enjoy the art without being annoyed by the noise from their fellow visitors bouncing off the screed. Without the acoustic panels, that racket would really get on your nerves".

Architects appreciated the natural look of the acoustic panels

But sound absorption wasn't the only thing that the architects had on their minds. They were also impressed with the appearance of Heradesign's acoustic panels. The wood wool structure has a warm and natural character, which the museum's visitors also appreciate. Anyone casting a look up at the ceiling will see an artificial material that they might find difficult to categorise at first glance. The dark areas between the wood wool fibres create an interesting effect at long range. The colour also matches the exhibition hall. "The acoustic panels come in any RAL colour, and we can provide custom colours upon request", said Wölfer. "The architects chose light grey, RAL 7035, for the exhibition hall. Visually, the panels are a perfect match for the neutral, grey screed and all of the concrete beams that they are installed between".

Ease of processing improves quality when installing drywall

In addition to having an appealing look, the acoustic panels were also easy for the drywallers to work with. Heradesign provided custom formats which the installers simply screwed onto a grid-like support system to fix them to the ceiling. There are no visible means of suspension, which gives the appearance of a single monolithic piece of material. The drywallers also appreciated the fact that the acoustic panels were easy to process with jigsaws or hand saws. This meant that they could incorporate rails into the panels for ceiling lights. This flexible lighting set-up provides suspending lighting and the best possible lighting for the art. Architects can rely on the craftsmanship of Heradesign's acoustic solutions.
Effective fire protection: Wood wool acoustic panel practically incombustible

But there's one other vital issue besides sound absorption and design: fire protection. "If there is a fire, the panels have to be able to withstand it for a long time."Heradesign meets this requirement. Its wood wool panels are available in fire class A2 - s1, d0", explained Wölfer.

Art appreciation in a pleasant atmosphere

Visitors to the former brewery hall can now enjoy the art in peace. "Lots of visitors are surprised at how pleasant the acoustics are in this huge hall", said Wölfer. "They can really appreciate the art without getting burnt out because there's too much noise. We are proud that our wood wool acoustic panels played their part in the successful construction of the Museum of Contemporary Art." It also looks great from the outside: The gold and brass bands of the façade at the museum's entrance area stand out against the white of the cubic building, giving it a striking appearance.

About the artist Dieter Kunerth

Dieter Kunerth started out as an independent sculptor, graphic artist and painter in the early 1960s, and moved into photography in the 1980s. He left the hustle and bustle of the city early on and found the peace and quiet he needed for his artistic endeavours in Ottobeuren. Since moving here, he has created a number of artworks using paint, sculpture, graphics collage and materials. He also developed a completely new artistic technique: land-light painting, a synthesis of landscape photography and painting.

About the Museum of Contemporary Art - Diether Kunerth

The demolition of an enormous brewery in the middle of Ottobeuren gave the market town an opportunity for a new cultural institution. The February hall of the brewery complex was saved and converted, Stuttgart's Atelier Lohrer won a European competition. The firm has won numerous awards for their architectural and museum design work. The "Museum of Contemporary Art - Diether Kunerth" opened its doors on 24 May 2014.

Heradesign products

Heradesign superfine A2/custom formats (540 square metres) and superfine (100 square metres) in light grey (RAL 7035).

Architect

Atelier Lohrer
Freie Architekten dwb
Museums- und Ausstellungsgestalter
Teckstr. 56
70190 Stuttgart, Germany

Developer

Museum of Contemporary Art - Diether Kunerth
Marktplatz 14a
87724 Ottobeuren, Germany

Categories: