HIMOINSA launches a new series of generator sets with HIMOINSA alternator, engine, canopy and controller
HIMOINSA a multinational company specializing in the manufacture of generator sets, has released the HHW series on the market: Seven soundproofed, open generator models, with power output ranging between 20 and 100 kVA at 50Hz and between30 and 120 kVa at 60Hz.

The components, engine, alternator, canopy and controller of the generator sets integrating the new HHW series have been integrally manufactured by HIMOINSA. The new generator models, powered by the HIMOINSA 4HD engine, feature low noise emissions, optimal fuel economy and excellent throughput, productivity and reliability levels.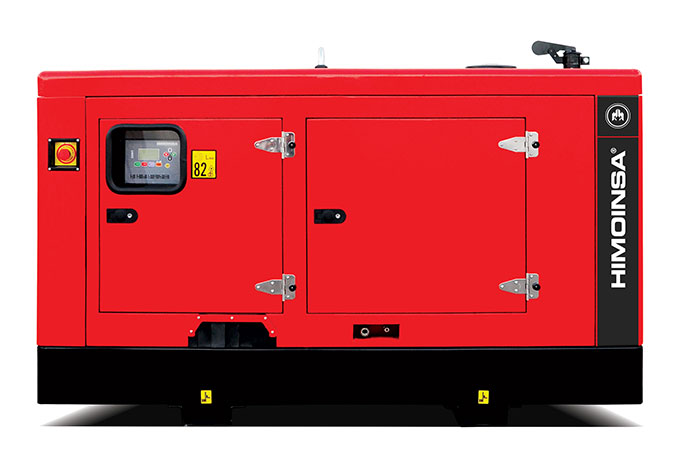 The generator sets comprising the HHW series are being marketed with three types of canopy to choose from: B10, C10 and D10. The three canopies feature inner have been fitted out with an inner lining of mineral wool - an insulation material with excellent soundproofing and thermal qualities. The hood is coated with a sound-absorbing, flame-retardant, category M0 material, the same material used in the canopies of all HIMOINSA generator sets, making them some of the most effectively sound-proofed generators on the market.

Capable of bearing extreme weather conditions, these generators comply with IP23 protection grade requirements and have been water tested according to EU regulations (IEC60529) and UL standards. The HHW series generator sets with B10, C10 and D10 canopies may be stacked and transported in containers in groups of 24, 11 and 8 units respectively.

Seven engine models have been developed (from 1500 to 1800 rpm) with a power output yielding between 20 and 95 KWm. The HIMOINSA alternator has an automatic voltage regulator (AVR) which has been designed to exceed international standards, while its special resin coating means it can be used in any operating conditions. Its Busbar connection system let six of them be moved to configure all the voltage/frequency ratios required in international markets.

The HHW series features the HIMOINSA M7X controller, with CEA7 and CEC7 controllers optional. The CEC7 controller monitors and controls the network. Linked by CAN to the CEA7 controller, it provides a fully independent emergency system. The CEA7 controller monitors and controls the set and the network With a single controller, HIMOINSA offers and automatic system that manages the generator set, while monitoring and controling switching,thus ensuring a fully automatic emergency system.
Categories: