Hotel boom fuels growth in drywall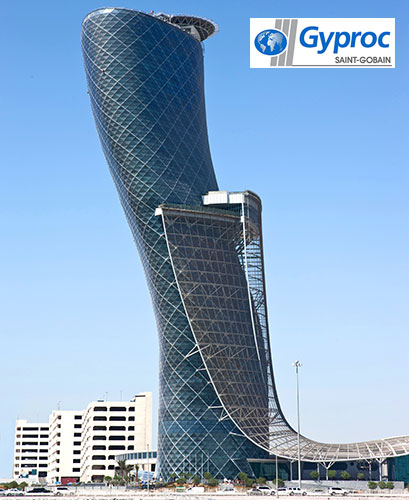 Dubai is now in the midst of an unprecedented hotel building boom ahead of Expo 2020, which is expected to attract up 25 million visitors to the principality. But are corners being cut in order to meet government targets – Marloes Meer of drywall specialist Gyproc Middle East, thinks that the boom is actually helping to drive up standards.

Expo 2020 may be set to launch Dubai onto the world stage, but providing the infrastructure for this mega-event is presenting the principality with many challenges – not least providing the estimated 80,000 additional hotel rooms required to accommodate the mass of influential visitors from around the world.

The government is doing all that it can to facilitate this, with reductions in pre-approval times, land release and other incentives, and exemptions from the 10% Dubai Municipality fee normally levied on the room rate for each night of occupancy, in order to help drive the construction of new three and four-star hotels.

But, whilst the obvious danger with fast-tracking new hotels is that corners may be cut and standards dropped, the opposite is proving to be the case, with developers keen to find good technical solutions that facilitate faster completions, and installers putting the emphasis on improved quality performance and good practice that will enable them to work faster and more efficiently.

Drywall provides the high performance answer

In many cases, developers are finding that drywall techniques are providing the solutions they are looking for.

Modern plasterboard systems, such as Gyproc's partition and wall/ceiling lining systems, are not only quicker to build, they are much lighter in weight than equivalent heavy masonry systems, so are easier to transport and use in the often restricted environment of the typical hotel interior. They also cut down on the overall weight of the building, so can save in other ways, such as reducing foundations and structural strengthening.

Even with their reduced mass, lightweight plasterboard systems perform as well as, and in many cases better than, equivalent masonry systems, so there is no compromise on quality, or on issues such as sound insulation and room acoustics, which are a basic requirement in all high quality hotel environments.

Gyproc systems also provide the high standards of fire protection needed, even in high rise hotel towers, and can improve the internal environment, with new Gyproc Activ'Air products, for instance, actually absorbing dangerous VOC compounds, to leave internal air cleaner and healthier for guests and staff alike.

Equally important, today's highly durable plasterboard systems provide the architect and interior designer with almost limitless design possibilities and provide high quality, seamless and crack-free finishes and predictable maintenance cycles that today's discerning hotel guests and operators need, and expect.

Green solutions

With the environment very high on everyone's agenda, Gyproc Drywall systems also provide the considerate solution for wall and ceiling linings. Thermally efficient, they help to maintain internal temperatures, thus cutting the requirement for heating and cooling energy, whilst their very high recycled content helps to improve building sustainability ratings.

Unlike brick and block partitions, drywall systems involve much lower water consumption during construction, so help to preserve this valuable resource, as well as cutting down on the logistical and environmental costs of delivering not only the water, but other bulk components, like sand and heavy blocks, to and around the site.

Remove the doubt

One of the main benefits of drywall systems is that all of the individual components – metal framing, plasterboard and fixings, have all been developed and rigorously tested to work together to provide a set level of performance. Unlike masonry systems, which rely for their performance on the skill and knowledge of the tradesmen involved, clients can be assured that drywall systems will perform to published parameters, so there are no surprises when the building is finally occupied.

Support is key

Gyproc Drywall systems are simple to install to a high standard following basic training, which can be provided on site by Gyproc's own specialist training personnel. Gyproc technical personnel will also provide support on site, to avoid typical issues such as avoiding back to back sockets – often mistakenly detailed on architectural plans, and incorrect detailing at junctions, which could lead to downgrading of acoustic and fire performance.

"We always prefer it when client's involve us from the very early stages of a project", says Marloes, "as that way we can be sure that the most appropriate Gyproc systems are specified and installed. More often than not this results in reduced overall project costs, as many clients will over-specify if they are not fully aware of system performance and options".

This early involvement also prevents duplication of effort and can help to avoid costly remedial measures and even compensation payments to clients if problems are discovered following handover.