About Electrical Systems
Electrical Systems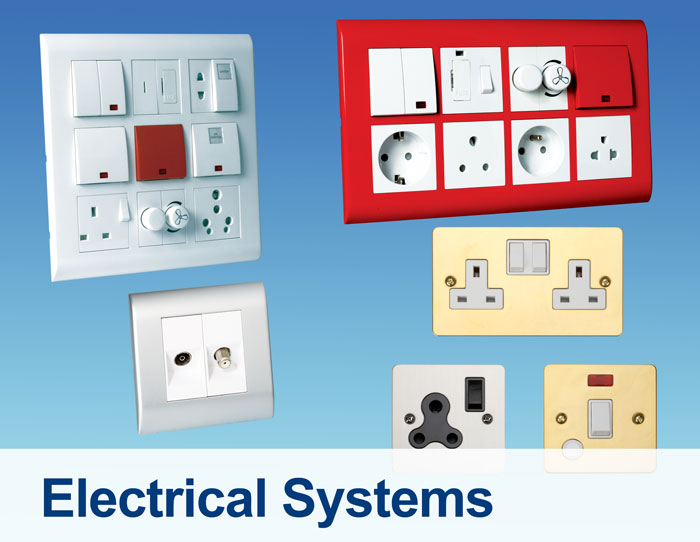 Interplast, a primary member of Harwal Group is a leading manufacturer of many innovative products in the GCC for the construction industry that include electrical cable management systems, wiring accessories, architectural claddings, window and door systems, fences, garden storage sheds and more.
Electrical Products Division of Interplast is a leading manufacturer of ASTA certified low voltage electrical accessories and cable management systems within GCC. Interplast has state-of-art modern manufacturing and testing facilities in UAE and KSA with annual conversion capacity exceeding 250,000 tons of resin and over 20,000 tons of metal. The company provides professional sales and marketing support through its distribution facilities in Abu Dhabi, Dubai, Sharjah, Riyadh, Jeddah, Dammam and UK. In addition to this, a wide spread distributor network throughout the MENA region and Europe ensure continuous and efficient sales & service support for the following product ranges.

EDISON Touch – The next generation touch panel switches, sockets, data and communication accessories finished in high grade toughened glass finishes
EDISON Euro – The complete range of modular switches, sockets and other accessories suitable to fix on European back boxes popular among Europe, Russia, Egypt, Lebanon and some parts of East Africa
EDISON Durafinish – Household Electrical Switches, Sockets and Wiring Accessories suitable for all conventional BSEN standard markets
EDISON Designer – Large Rocker Switches and sockets with screw-less design for British Standard markets
EDISON Royale – High end fully modular range of decorative Switches, Sockets and Wiring Accessories for commercial projects such as hotels, malls, airports etc.
EDISON Slim – Slim Metal and Plastic Plate Switches, Sockets and Accessories with screwless design for high end applications.
DECOVOLT – Lighting fixtures such a battens, grill fixtures in T8 and T5 suitable for domestic, office and other commercial applications
DECODUCT Metal Cable Trays, Ladders and Trunking System for cable distribution.
DECOVOLT Low Voltage Electrical Components and Lighting Accessories
DECODUCT Conduits and Accessories for Concealed/Buried Wiring Distribution System
DECODUCT Trunking and Accessories for Surface Wiring Distribution System
DECODUCT Dado/Perimeter and Skirting Trunking and Fittings for Compartment Wiring.
INTERGARD Cable Protection Plastic Tiles and Warning Tapes
The new products under development and soon to be launched are CAT6 compliant Perimeter Trunking, Power Posts, Power Poles, Aluminium Shielded Conduits & PC fittings, Industrial Isolators and Sockets, Low Voltage Panel & Distribution Boxes.
All above products are manufactured under the quality management system certified to ISO 9001 by ASTA- UK. All these products conform to relevant British, German, European, American, SASO and other international standards with CE mark under European safety regulations.

26 00 00 - Electrical
26 27 00 - Low-Voltage Distribution Equipment