Knauf AMF Ceilings Touch Down at Bristol Airport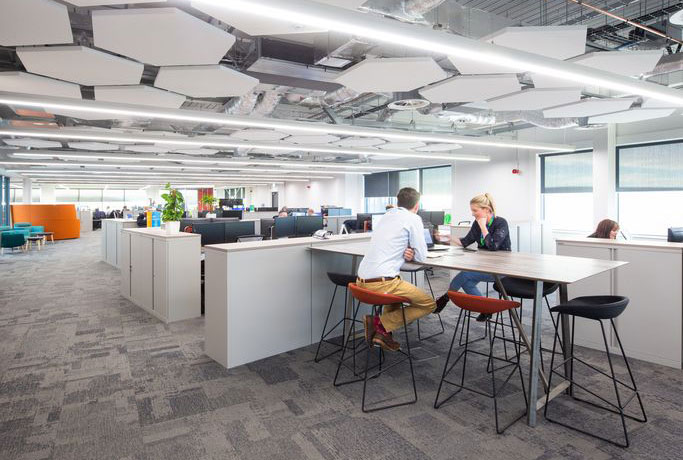 A new £8m three-storey administrative hub for head office staff at Bristol Airport has just been completed. The impressive state-of-the-art steel framed building, prominently located at the Silver Zone, Airport entrance, has a bespoke Knauf AMF ceiling system fitted throughout to ensure acoustic comfort for the airport's senior management and project teams.

A visually intricate honeycomb effect ceiling which was specified by architects, Stride Treglown, required the design and meticulous installation of suspended hexagonal acoustic rafts with precise spacing. This represented a challenge, but one Knauf AMF overcame with the development of a bespoke DONN® grid. The grid ensured that each one of the 420 TOPIQ® Sonic element rafts were positioned equidistant to each other.

Commenting on the project Stride Treglown Associate Architect Toni Riddiford said, "This building facilitates a new agile and collaborative way of working for Bristol Airport. The internal aesthetic is an honest expression of the steel structure and exposed services installation. However, these two factors require careful acoustic consideration and we worked with Hydrock's acoustic team to ensure the open plan floor space had an appropriate sound balance for the range of tasks that will take place within it. The result is a series of randomly arranged, hexagonal suspended rafts that provide acoustic function, as well as making a strong visual statement, defining areas and adding interest to the soffit."

TOPIQ® Sonic element are frameless ceiling rafts which offer excellent sound absorption and humidity resistance. Suspended by simple, discreet cable hangers, the rafts create a weightless, elegant structure. Manufactured in a range of shapes and custom colours, TOPIQ® Sonic element rafts offer architects and designers even greater design choice as well as superior performance.

Commenting on the project Optimum Site Manager Matt Charlton said, "The Knauf AMF Topiq Sonic ceiling met all the aesthetic and acoustic requirements and importantly allowed good access to the M&E services for future maintenance. We have worked with Knauf AMF on previous projects and always found the products easy to install. The ceiling at Bristol Airport was such a complex design that it wasn't without it challenges but the project went smoothly with no problems. The end result is great and everyone involved in the project is really pleased with the finished result."

The new office hub is the latest project in a series of developments that are set to modernise and expand the site, and demonstrates Bristol Airport's continued investment into sustainable, low carbon systems. The new energy efficient building has been designed with energy efficiency in mind, with a carbon emission reduction of 23% over facility-building regulations.
#knaufamf #amfceiling #thermatex #varioline #topiq #thermofon #hygena #thermaclean
Categories: