About 1620x3240mm On Top Series
Brochures

1620x3240mm On Top Series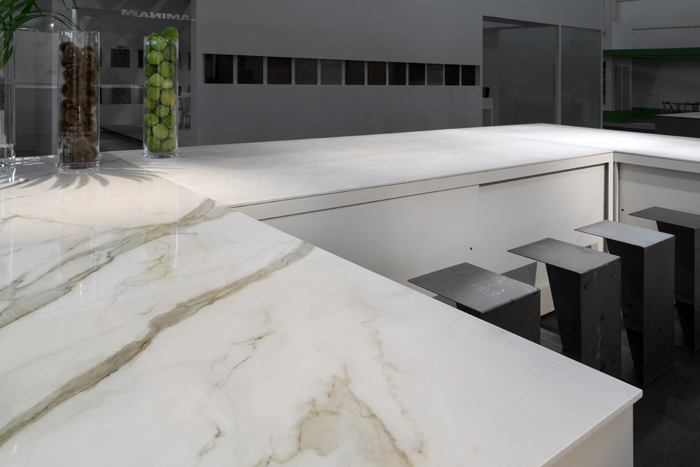 The Laminam pure ceramic slabs in the 1620x3240mm size, 12mm thick, are the fruit of the innovative production line activated recently. They offer priceless millimeters of extra space for the hands of skilled workers, providing them with more creative freedom than ever before. These surfaces are designed for the world of furnishings, from tops and horizontal surfaces to large, top-of-the-range kitchens, where extra-large ceramics slabs can be used as an alternative to materials such as marble and stone, which have a higher price and greater environmental impact.

The mission: to produce exclusively large-size ceramic slabs with minimum thickness
A clear concept that has evolved and become part of the production set-up of latest-generation technologies able to meet the needs of the market: from the world of architecture through to furnishings. This approach creates two souls, closely entwined with one another and corresponding to the two product sizes: 1000x3000mm slabs, in 3 and 5 mm thicknesses (39.4"x118.1" in a thickness of 0.12" and 0.22"), ideal for floors and indoor and outdoor walls, and 1620x3240mm slabs, in 12mm thickness (63.7"x 127.5" in a thickness of 0.47"), for the horizontal surfaces of tables and kitchen and bathroom tops.

Laminam On Top 1620x3240x12mm / 63.7"x 127.5"x0.47"
The Laminam pure ceramic slabs in the 1620x3240mm size, 12mm thick, are the fruit of the innovative production line activated recently. They offer priceless millimetres of extra space for the hands of skilled workers, providing them with more creative freedom than ever before.

These surfaces are designed for the world of furnishings, as horizontal surfaces ranging from tables to kitchen and bathroom worktops, where extra-large ceramics slabs can be used as an alternative to materials such as marble and stone, which have a higher price and greater environmental impact.

Thanks to their excellent technical performance, Laminam slabs are ideal for the most delicate of uses, requiring maximum hygiene and resistance. The aesthetic virtues of the large size offer a major artistic advantage, guaranteeing material continuity throughout the settings, in sophisticated, natural shades.

Calce
Soft colours, delicate shading inspired by wet plaster and industrial concrete. Soft materials with a strong contemporary spirit, icons of sophisticated design.
Colors: Avorio, Bianco, Grigio, Tortora, Antracite, Nero

Cava
A new architectural concept with an authentic allure. A magnifying glass on the natural quarry that brings to light precious elements and grains that are very true to reality.
Colors: Bianco Statuario Venato Lucidato, Bianco Statuario Venato Soft Touch, Calacatta Oro Venato Soft Touch, Calacatta Oro Venato Lucidato

Legno Venezia
Surfaces sculpted by the work of the sea creatures of the typical Venetian mooring posts; corroded by the salt water, they bring a piece of the famous lagoon's history to life.
Colors: Corda

Ossido
Unusual materials that take on new meaning, generating an unexpected visual impact. From the iron smithing traditions come textures that blend technology and art.
Colors: Bruno, Nero

Tinta Unita
Reflecting surfaces, with a key role played by the full-body colour that underlines thick hues and colour finishes with surprisingly brilliant shading.
Colors: Neve lucidato
09 30 00 - Tiling
12 36 00 - Countertops
12 42 00 - Table Accessories