Mixed-Use Marquis on 5th Street Built on PENETRON Technology
The December 2018 opening of the upscale Marquis on 5th Street complex in Austin, Texas, combines residential units and ground-floor retail areas with a three-level basement parking garage. Penetron crystalline technology was specified to ensure the integrity of the extensive below-grade concrete structures.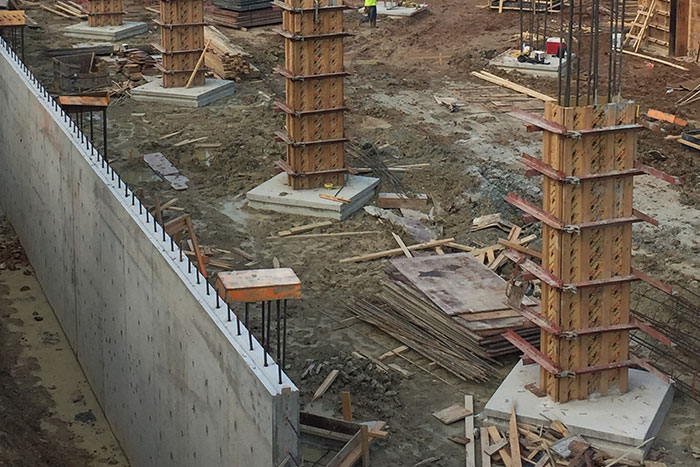 "The Clarksville section of Austin suddenly has a lot going for it, making the neighborhood very desirable," explains Christopher Chen, Director of The Penetron Group. "It's less than a mile from downtown Austin and close to Lady Bird Lake."

Large, Mixed-Use Development

Located on the site of a former AT&T storage building that housed utility maintenance vehicles, the Marquis on 5th Street development includes 226 apartment units on five floors (configured as one, two, and three-bedroom units), and 2,200 square feet of retail space on the ground floor. 10% of the apartment units are reserved for lower income families.

Designed by Kelly Grossman Architects, the $29 million project is a joint venture between Oden Hughes and CWS Capital Partners. Amenities include a pool in the center courtyard, a bike storage space and a fitness center adjacent to retail shops on the ground floor.

Durable Waterproofing Solution

"Constructing an underground garage at that depth invariably means confronting groundwater issues and, often, flooded building sites," says Christopher Chen. "Implementing a reliable and durable waterproofing solution was a key factor in the specification of Penetron crystalline technology by the project architects."

PENETRON ADMIX SB in soluble bags, added to the concrete at the time of batching at the ready-mix plant, was used to treat all concrete for the below-grade walls and foundation slab of the three-floor parking structure that accommodates 292 parking spaces. In addition, PENECRETE MORTAR was applied to seal all tie-holes and any cracks in the new concrete.

Easy-to-Add Soluble Bags

The convenience and ease of use of premeasured PENETRON ADMIX in soluble bags help to simplify the batching process and ensures the correct mixing for any project. The bags dissolve quickly and completely during mixing.

"The Clarksville project is a relatively deep parking garage design that exposes the concrete structure to the elements," adds Christopher Chen. "The architects looked for a proven waterproofing solution that would also provide a high level of durability to the concrete – and specified PENETRON ADMIX."

The Penetron Group is a leading manufacturer of specialty construction products for concrete waterproofing, concrete repairs and floor preparation systems. The Group operates through a global network, offering support to the design and construction community through its regional offices, representatives and distribution channels.

For more information on Penetron crystalline technology solutions, please visit http://www.penetron.com, email: CRDept@penetron.com or contact our Corporate Relations Department at 631-941-9700.
#Penetron #CrystallineTechnology
Categories: