No need to carry a catalogue: Smartphone App gives architects the details they need
Free app "AMF Infocenter" brings information about the products of ceiling specialist Knauf AMF to smartphones and tablets
Thanks to Knauf AMF, architects no longer have to drag hefty product catalogues around the construction site. The Grafenau-based ceiling specialist has published "AMF Infocenter" - a free app which brings all of their product information to smartphones and tablets.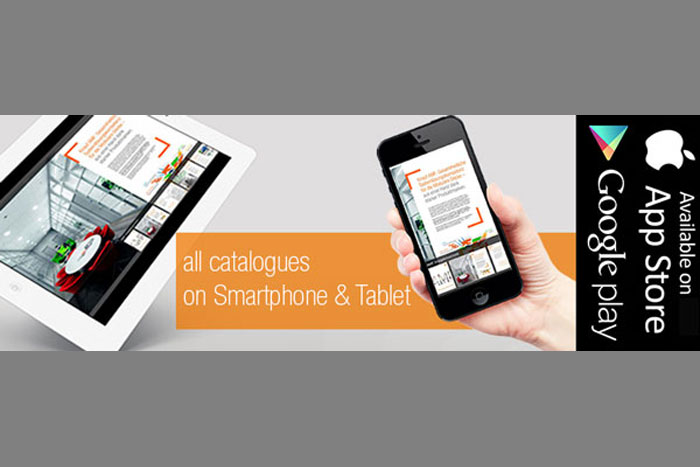 Knauf AMF's range takes up several product catalogues, which architects, developers and planners would rather not be weighed down by when looking for the right acoustic solution on the construction site. That's why the company developed "AMF Infocenter" for iOS and Android smartphones and tablets. The app is available to download for free from the Google Play Store and Apple's App Store.

AMF Infocenter: intuitive and incredibly easy to use
With a swipe of the screen, architects can use the app to download the catalogues of Knauf's AMF Thermatex, Heradesign, AMF Topiq, AMF Ventatec and Donn brands, as well as image brochures, in German, English, French, Polish, Czech and Turkish. All of this product information is then available to refer to at any time, even offline.

The app also provides smart search and bookmark functions so that architects quickly find what they're looking for. It also uses push notifications to let you know about new products and changes - quicker than print catalogues ever could.

Free "Raumakustik-Rechner" [room acoustics calculator] app also available
Knauf AMF also has a free room acoustics calculator app to help you plan out a room's acoustics. Here's how it works: The user chooses one of 24 room types, such as an office, lecture theatre or sales area, and specifies the dimensions and features of the room. The program then calculates the reverberation times of different frequencies and predicts how they would change if the room's acoustics were optimised. This helps the architect to choose the right solution, e.g. ceiling tiles, wall boards, acoustic screens or acoustic baffles.
Categories: