About Mini and Special Cranes
Mini and Special Cranes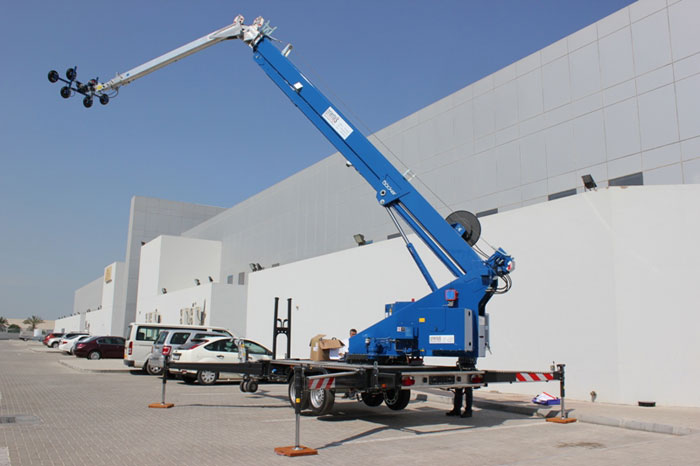 Orientals Specialist Lifting is an exclusive Middle East distributor of Europe's world renowned UNIC Mini Crawler and Germany's long respected brand, the Bocker cranes.
The UNIC Mini Crawler cranes are the biggest innovation and technological breakthrough in the crane industry. Inspired design, precision manufacture and attention to detail means that these cranes are incredibly compact, yet provide the capacity and reach of heavier machines with a much larger footprint. It is simple, quick solution for all lifting works, where access is restricted or working space is confined. It is known to be the "world's most compact crane". Lower capacity UNIC Mini Crawler cranes model like URW-094, URW-095 and URW-295 are small enough to pass through a standard doorframe and has proved to be invaluable for interior access whether on construction sites, in power stations and petrochemical plants, or in listed buildings for renovation and restoration work.
All UNIC Mini Crawler cranes are tracked for mobility over rough terrain and can even mount stairs. Four outriggers provide load stability and operate on slanting ground. The leading UNIC Mini Crawler URW-706 model, the world's highest capacity mini crane boasting 6 tons of lifting power while still narrow enough to gain access through a double doorway. All UNIC Mini Crawler cranes are equipped with radio remote control. They are use on construction sites, as well as in factories, on railways lines, in listed buildings, in petrochemical plants and power stations.
The Bocker aluminium cranes, The Lifting Group is one of the leading manufacturers of crane and lift technology sector. With a slogan of "one brand, one team, one goal", provides you with full product range of transport solutions, starting with light construction winches up to strong rack and immobilizes hoists. Its technology has been representing performance, safety and reliability. With payloads varying from 1,200 to 6,000 Kg and working heights varying from 28 to 41 meter, making it a powerful model for any operation in the comprehensive product range.
With enormous capacity, Bocker Aluminium cranes leads to substantial responsibility to safely transport loads. A well-engineered and superior Bocker aluminium PLC control which is a central part of any Bocker Aluminium cranes surpasses all expectations. It continuously monitors the position of all supports as well as the attached load and automatically calculates the maximum working range. This modern control ensures combination of sensitive radio-remote control which transports precisely and quickly all loads to the roof. Additionally, it offers a comprehensive range of powerful and versatile accessories such as Access platforms, Roof Tile Fitting platforms and Roof stands, Roof Tile Tongs, Tipper Basket, Pallet Fork, Lubricant KS PRO and Warning Signs.
Access platforms are solidly screwed to the jib, quick and easy assembly, maximum of 2 persons and appropriate to all Bocker Truck cranes (except AK 28/1200) and Bocker Trailer Crane AHK 30/1600 PLC has Roof Tile Fitting platforms and Roof stands for safe positioning of loads on the roof and roof tiles and palette goods, mounted directly on the rafter without damaging the foil and has 600 kg maximum payloads. The Roof Tile Tongs accessories can transport in one and two rows and has maximum load-bearing capacity of 400 kg. Tipper Basket works perfectly for any kind of bulk material. This basket has been particularly designed for the refurbishment.
It is characterized by low dead weights and extreme durability. It can be discharged by swiveling the carrying strap and with 500 kg of total payloads. Pallet Fork is safe for transporting of palette goods, no transshipping required, adjustable by eye hook of crane and has 600 or 1,000 kg payloads. Lubricant KS PRO is suitable for levers, guides rollers and spindles. Lubricant KS PRO can be easily sprayed on the concerning components which can easily be lubricated and surpassing long-term characteristics resulting to a life-long service. Lastly, Warning Sign is an effective warning for pedestrians, made of robust galvanized steel and enough space to place your own logo or any kind of advertisement with size of 400x500 mm. Indeed, Bocker Aluminium cranes have been continually taking safety standards to new heights which positively affect the quality of customer satisfaction.

01 54 00 - Construction Aids
14 00 00 - Conveying Equipment
41 22 00 - Cranes and Hoists
41 34 00 - Finishing Equipment