Paper Mill Expansion Built on PENETRON
Surrounded by water above and below-ground, International Paper's paper mill in Savannah, Georgia (U.S.A.), specified PENETRON ADMIX to protect the new foundation structures of the plant's latest upgrade that went online in March 2017.

When confronted with a project exposed to groundwater and seawater, adding a crystalline admixture to the concrete makes the concrete waterproof and promotes active self-healing of cracks. It is also more economical and environmentally friendly than manipulating the water/cement ratio or traditional membrane solutions. PENETRON's crystalline admixture has recently been used successfully in similar brackish water conditions in a number of water management projects in the Florida Everglades.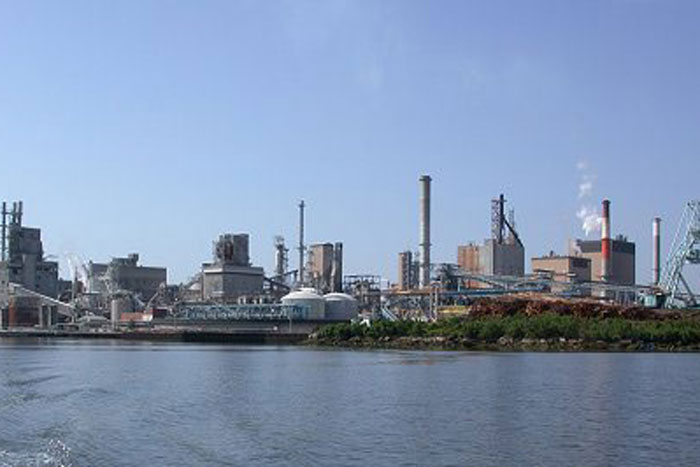 The newest upgrade at International Paper's (IP) Savannah, Georgia, paper mill was a new feed conveyor system used in the production of linerboard, a type of heavy paper stock. Because of the site's high water table and proximity to the saltwater of the adjacent Intracoastal Waterway, the concrete for the foundation slab needed to be waterproof and resistant to saltwater to prevent any possible corrosion of the slab's steel reinforcement elements.

In their November 2010 "Report on Chemical Admixtures for Concrete" (ACI 212.3R-10), the American Concrete Institute (ACI) underlines the advantages of a crystalline waterproofing solution as "a superior product to reduce permeability in concrete under hydrostatic pressure (compared to hydrophobic pore blockers and colloidal silica) and thereby significantly increases the durability and life span of concrete structures."

Argos USA, the ready-mix supplier, added PENETRON ADMIX in soluble bags to the concrete during the batching phase. PENETRON ADMIX soluble bags dissolve instantly during mixing and are pre-measured for easy batching. They also incorporate the PENETRON innovation, a fugitive green tracer in the bleedwater. This tracer confirms that PENETRON is "in the mix" at the time of pour without staining or coloring the concrete.

"Technical upgrades and new equipment installations are a regular occurrence at the Savannah paper mill," says Christopher Chen, Director of The PENETRON Group. "Our crystalline waterproofing technology was selected for this recent expansion because it has a proven track record for quality results and ease of use in all its applications, including its particular efficiency when used in construction located in close proximity to bodies of water."