Penetron is the Standard for Exclusive Luxury Pools in Mexico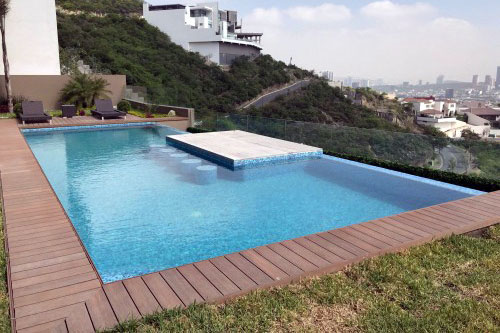 Designed by 3 Cincuentayuno Luxury Pools, the Arboledas pool at the Club de Golf La Hacienda in Atizapan de Zaragoza, México, welcomed club members to the new facility in March 2019. The exclusive aquatic architects specified Penetron crystalline technology to ensure a durable and waterproof pool structure and deck.

3 Cincuentayuno Luxury Pools is an architectural pool company based in Monterrey, México. This team of specialized architects focuses on the design and construction of "aquatic spaces" as architectural and ornamental elements. Each pool is unique, and the company manages all aspects of the project, from design to construction, to ensure a consistently high level of build quality. The range of designs include:
Residential pools, both standard and custom designs
Commercial swimming pools
Olympic-size pools
To provide the necessary strength and durability, the concrete for these exclusive pool structures is treated with PENTRON ADMIX. Added to the concrete mix during the batching phase, the crystalline admixture ensures a completely waterproof concrete matrix.

Looking for Reliability and High Performance

"Because quality is such an important part of every 3 Cincuentayuno project, the designers insist on the best technology and materials to ensure reliability and a high level of performance," explains Alejandro Muciño, Managing Director of Penetron México. "That's why the Penetron System is part of every 3 Cincuentayuno design today."

This summer, Penetron México helped 3 Cincuentayuno complete the Arboledas project, a large, L-shaped pool design (12 x 6/2 m) at the Club de Golf La Hacienda in Atizapan de Zaragoza, located in the México City metropolitan area.

"The design of this project was a perfect combination of water and light," adds Alejandro Muciño. "The aquatic space is perfectly integrated into its surroundings – with a wrap-around concrete pool deck."

Creating an Impermeable Crystalline Network

After careful review of the technical parameters of the Arboledas project, the 3 Cincuentayuno project engineers specified Penetron crystalline technology, including PENETRON ADMIX, PENEBAR SW swellable waterstop, and topical applications of PENECRETE MORTAR, PENEPLUG and PENETRON.

Once PENETRON ADMIX is added to the mix, it reacts with the water in the concrete. The resulting impermeable crystalline network becomes an integral part of the concrete matrix.

"One of the key benefits of PENETRON ADMIX is the ability to self-heal hairline cracks," adds Jozef Van Beeck, International Marketing & Sales Manager for Penetron International. "Where chloride-laden water could enter through cracks and penetrate deeply into concrete, PENETRON ADMIX stops any damage from occurring – for the life of the concrete."

Admixture Best for Reducing Permeability

As described in "Report on Chemical Admixtures for Concrete" published by the American Concrete Institute (ACI), "permeability-reducing admixtures for hydrostatic conditions (PRAHs)," i.e. crystalline admixtures like PENETRON ADMIX resist water penetration against hydrostatic pressure and have proven to be the most effective PRAH products with clear advantages over hydrophobic materials based on other mechanisms or ingredients.

"The Arboledas concrete pool structures are completely clean and dry," adds Alejandro Muciño. "Penetron technology, which is used in residential and competitive swimming pools around the world, performed flawlessly on this project, as expected."

"Over the years, pools, aquariums and aquatic facilities have become something of a specialty for Penetron," adds Jozef Van Beeck. "Projects like Arboledas in México are ideal applications that demand the durability of Penetron crystalline technology."

The Penetron Group is a leading manufacturer of specialty construction products for concrete waterproofing, concrete repairs and floor preparation systems. The Group operates through a global network, offering support to the design and construction community through its regional offices, representatives and distribution channels.

For more information on Penetron waterproofing solutions, please visit penetron.com or Facebook.com/ThePenetronGroup, email CRDept(at)penetron(dot)com or contact the Corporate Relations Department at 631-941-9700.
#Penetron #CrystallineTechnology
Categories: