PENETRON's Five Star Solution for Shekvetili Luxury Hotel
A sublevel foundation at Shekvetili Five Star, which includes a number of swimming pools, is waterproof thanks to PENETRON crystalline technology. This luxury hotel, part of Marriott's exclusive Autograph Collection, opened in March 2017 in Georgia, just in time for the Black Sea summer season.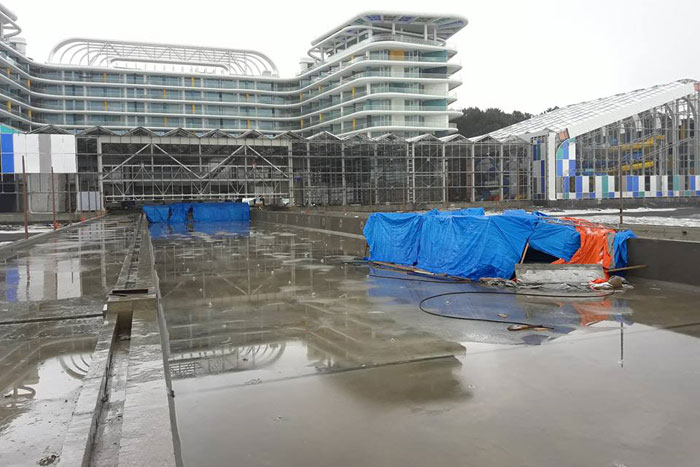 Final preparations: A close-up of the Shekvetili Five Star outdoor pool, located on the Black Sea shore, nearing completion. PENETRON crystalline waterproofing is already in the concrete.
"A key parameter of concrete durability is impermeability by water, chloride, sulfates and other potentially harmful substances, especially for marine environments like the just-completed Shekvetili Five Star project," explains Dzhimsher Shengelia, Director of PENETRON Georgia.

With the close proximity to saltwater, chloride-induced corrosion of the reinforcing steel in concrete is a key aspect of concrete durability for the hotel's structures. Concrete dosed with PENETRON ADMIX ensures significant reductions in rapid chloride permeability test (RCPT) values, as defined by ASTM C-1202 and AASHTO T-277 tests, by reducing chloride ion permeability.



Looking out to sea: A wet winter day shows the view across the PENETRON-treated concrete pool structures out to the Black Sea – summer is coming!

PENETRON ADMIX was used to protect all below-grade structures of the Shekvetili Five Star to best withstand the seaside environment. In addition, the indoor and outdoor swimming pools and the aquarium were treated with the crystalline admixture, a total of over 2,000 m3 (2,620 cubic yards) of concrete. This ensures permanently waterproofed structures, many of them below sea level.

"When PENETRON ADMIX is added to the concrete, it reduces permeability by permanently sealing micro-cracks, pores and capillaries," adds Dzhimsher Shengelia. "This effectively protects the concrete against water penetration and the effects of deterioration, even under high hydrostatic pressure."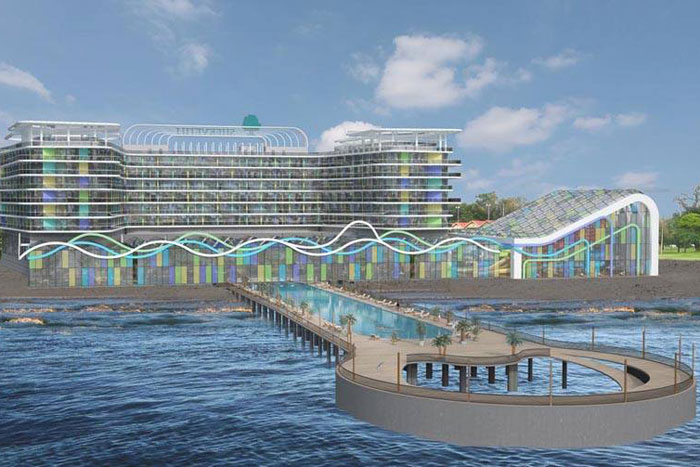 Surf's Up!: This artist rendering of the Shekvetili Five Star in Georgia shows the hotel's seaside environment that makes PENETRON crystalline technology a must!

"This US$80 million project in Georgia is one of many seaside projects PENETRON has recently completed on the Black Sea," says Robert Revera, President & CEO of The PENETRON Group. "Our success stories span from the customs building in Sapri on the Turkish border, the many hotels, and the seaport and cultural center in Batumi, to the Winter Olympic facilities, the seaport and train station in neighboring Sochi, Russia – and so many more!"

The Shekvetili Five Star is a luxury hotel with 220 suites – all with views of the Black Sea – a swimming pool cut 150 meters into the sea, further indoor and outdoor swimming pools, a winter garden, restaurants, a children's entertainment center, a movie theater, and a 1,600 m2 (40,000 gallon) aquarium.
Categories: