Penetron Technology Delivers Durability At Bella Isla
The July 2019 official opening of the Bella Isla Apartments on the Venetian Islands in Biscayne Bay is the newest luxury development in an exclusive "offshore" Miami Beach location. Penetron crystalline technology was used to add durability to all concrete foundation structures exposed to the island's marine environment.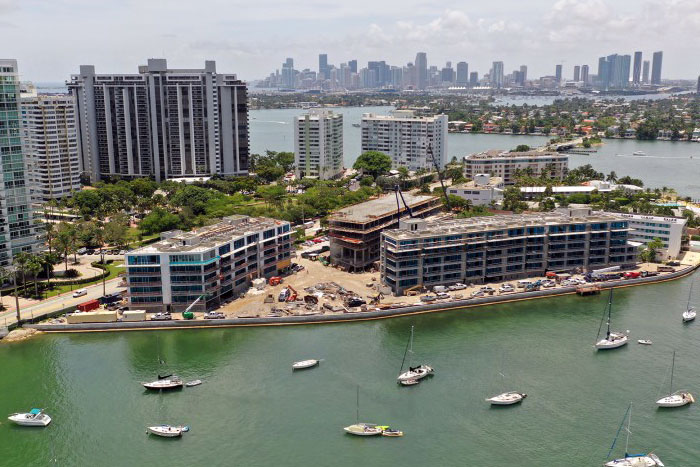 "Many Florida natives consider the Venetian Islands in Biscayne Bay one of the most desirable places in South Florida," says Christopher Chen, Director of The Penetron Group. "And the location of the Bella Isla Apartments, perched on the western end of San Marcos Island, offers the unique experience of waterfront living in a suburban setting."

The Venetian Islands comprise a small and exclusive community of six man-made islands in Biscayne Bay, connected by the Venetian Causeway and dotted with luxury waterfront estates and high-end condominiums. The Bella Isla Apartments complex on San Marcos Island is walking distance from specialty shops and surrounded by the Bay. The 172 upscale apartments are housed in two five-story buildings of 310,600 square feet (28,300 m2). The main building has three parking levels and features a rooftop garden that resembles the Florida Everglades fauna. The apartment units are available in studio or 1 to 4-bedroom layouts –with balconies that offer views of Biscayne Bay and the skylines of Miami and Miami Beach.

Specifying A "Molecular Level" Solution
"The Venetian Islands are man-made, built of sand pumped from the bottom of Biscayne Bay and constrained by pilings constructed in the mid-1920s," says Christopher Chen. "With that degree of porosity in the underlying subbase, the engineers at BCC Engineering were clear about specifying Penetron crystalline technology. This would protect the foundation elements of the Bella Isla Apartments against an almost certain risk of saltwater attack and subsequent corrosion."
Because water and waterborne contaminants penetrate concrete mainly through capillary absorption and hydrostatic pressure, countering this problem demands a "molecular level" solution. PENETRON ADMIX reacts to the moisture in concrete to generate a non-soluble crystalline formation throughout the pores and capillary tracts. This permanently seals the concrete against the penetration of water, protecting it from deterioration, even when exposed to the marine environment of Biscayne Bay.
Ensuring Low Permeability With Self-Healing Capabilities
Specified for all foundation structures at the Bella Isla Apartments complex, including the foundation slabs, elevator pits and retaining walls, PENETRON ADMIX was mixed into almost 3,000 cubic yards of concrete during the batching phase by Supermix, the project's ready-mix supplier. The resulting mix ensured a concrete with low permeability, low shrinkage, self-healing capabilities and chloride resistance demanded by the conditions at the construction site.
"The mix design used for the Bella Isla Apartments resulted in a particularly durable concrete thanks to the crystalline protection against deterioration from chemical attack and chloride penetration, even when exposed to hydrostatic pressure," adds Christopher Chen. "That's how Penetron delivers enhanced concrete durability and service life."
#Penetron #CrystallineTechnology
Categories: