Resolco Insulation's participation at Saudi HVAC Confex
Resolco and Middle East Insulation-Dubai (MEI) have successfully concluded participations in HVAC Confex which was organized by KSA's Ministry of Water and Electricity under the patronage of H.E. Eng. Abdullah bin Abdulrahman Al-Hussain. The event serves as a vital platform to promote the requirement for significant Energy Saving by bringing together key international industry player to help formulate strategies and discuss and benchmark global best practices.
As one of the key contributors at the conference, Resolco Insulation's Managing Director and Chairman of ASTM Insulation committee, Mr. Bart Hinten, showed how energy saving can be optimized by using a revolutionary insulation such as phenolic - Insulphen with technical comparison of different types of insulation.
The full presentation can be downloaded below.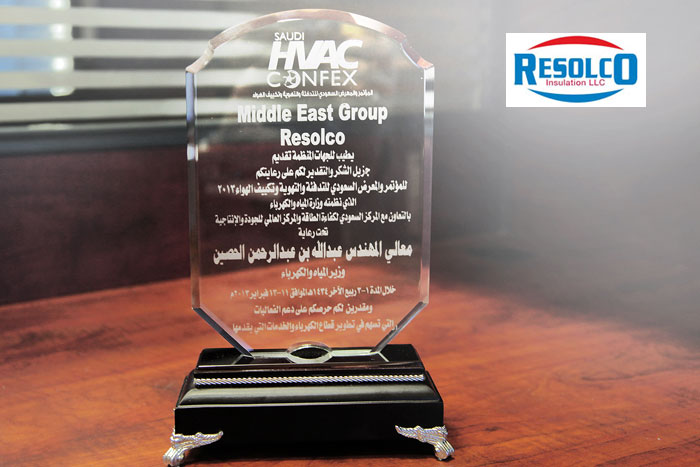 As Saudi Gazette reported on 12th February aptly titled;
Kingdom Keen to Cut Energy Consumption
"The Minister revealed that the trial implementation of the royal order three years ago to apply insulation in buildings resulted in household energy savings of up to 50 percent.".
The Minster said: "Effective of today, compulsory implementation of the order will apply to new buildings in Riyadh, in an initial phase, and it will be implemented in other parts of the Kingdom soon."
Resolco Insulphen was used in many state of the art buildings such as the Burj Khalifa, hospitals (Hamad Medical and Sidra Medical in Qatar), Government buildings and institutions, petrochemical plants (Petrofac). Resolco Insulphen – phenolic insulation has recently acquired UAE Ministry of Public Works Certificate.
Resolco Insulation is the authorized distributor of Resolco Insulphen in the Middle East and the MENA region. For more information on the product, visit our website by clicking the Read More link.
Resolco Insulation and Middle East Insulation are part of the Middle East Industries. The companies manufacture PU and PIR foam insulation for pipes and panels used for wall cladding and roofs on steel structure buildings, as well as sandwich panels, standing seam engineered roofing system and portable cabins. Bin Ghurair Trading is a manufacturer and supplier of BS and UL certified fire rated steel doors and frames.