Scaling Up Our Energy Portfolio: New Plug-In and Split-Core Current Transformers
WAGO's new plug-in and split-core current transformers stand out thanks to their compact design, high precision and easy handling.
Exact and comprehensive electricity measurement forms the basis for energy management, energy monitoring and, ultimately, energy savings. Current transformers come into play when high currents cannot be directly processed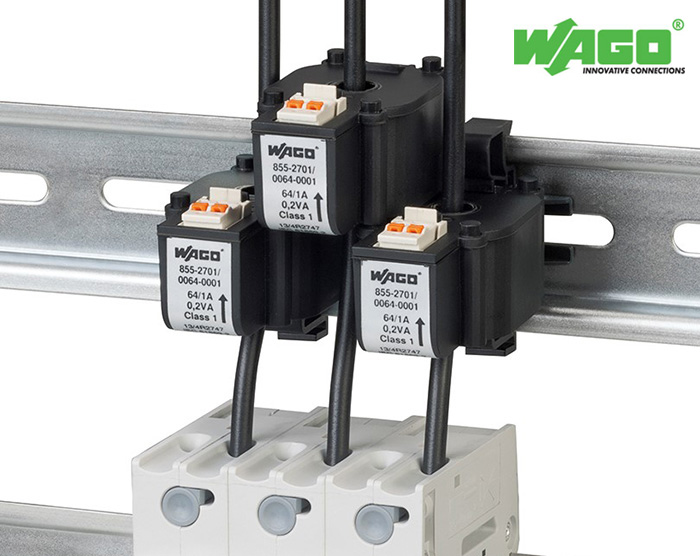 Plug-in current transformers with picoMAX® connectors
Besides its existing plug-in current transformers featuring CAGE CLAMP® connection technology, WAGO has now developed two new versions with picoMAX® connectors. These compact current transformers are particularly well-suited for connection to digital measuring systems. Both their dimensions and their special shape make them ideal for use in a 3-phase line circuit breaker with phase spacing of 17.5 mm. With a 1% measuring accuracy (Accuracy Class 1), the 855 Series units transform primary rated currents of 35 A or 64 A into electrically isolated secondary currents of 1 A.
Split-core current transformers
The new split-core current transformers, on the other hand, are excellently suited for upgrading existing systems in which the current path may not be disrupted. They can be opened on one or both sides — an indispensable feature for installation in tight spaces. The 855 Series split-core current transformers transform primary rated currents of up to 1,000 A into electrically isolated secondary currents of 1 A. The high level of accuracy of the split-core current transformer of up to 0.5 percent yields extremely precise current measurement. All transformers are supplied with color-coded cables. Two UV-resistant cable ties for reliable and easy mounting are also included.<