Three Phases, Three Versions: New EPSITRON ECO Power Supply Units
The first quarter of 2014 will welcome three different versions of the three-phase ECO power supply units to the EPSITRON® family of products.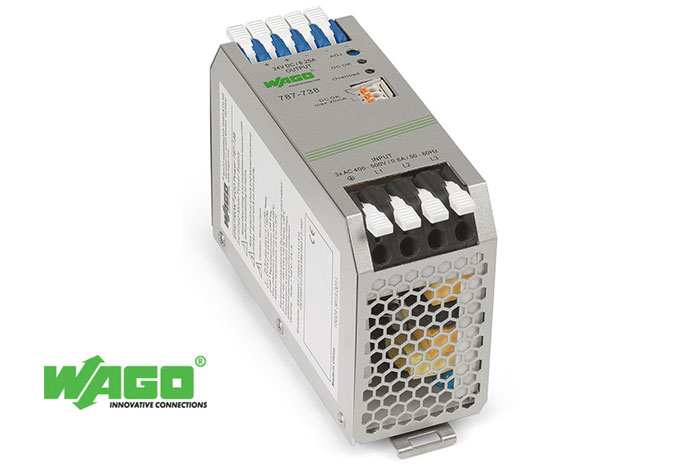 WAGO's ECO Power Supplies are an economical alternative when reliable 24 VDC voltage is needed. Our existing portfolio of single-phase components will be expanded to include versions for 3-phase connection as of the first quarter in 2014. The three new ECO Power supply units provide output currents of 6.25 A (787-738), 12.5 A (787-740) and 20 A (787-742). The units' expanded temperature range of -25 to +70°C, their constant output mode on overload and derating that does not commence until +50°C makes these units an interesting choice for multi-faceted applications – for example, for power supply of consumers in information and automation technology, plant construction, building automation or process engineering.
Like their single-phase power supply cousins, the three-phase ECO Power supply units can also be connected in parallel. The output voltage can be adjusted between 22 and 28 V using a potentiometer on the front of the unit for exact matching of the power supply to the particular machine or system. The integrated actuating levers make connection of conductors easy and time-saving, as the clamping unit can be opened and closed without using any tools. The CAGE CLAMP® connection technology ensures that the clamping unit is always closed completely, regardless of the operator, and that the proper contact force is always applied.
Products in online catalog by March 2014 (787-738, 787-740), by April 2014 (787-742).
Economical power supply in a compact package: With an output of 150 W, the new Three-Phase ECO Power Supplies (787-738) feature a width of just 50 mm and a depth of 92 mm. All connectors are equipped with screwless CAGE CLAMP® spring pressure connection technology.