Schneider Electric to Showcase Integrated Smart City Solutions at World Future Energy Summit 2015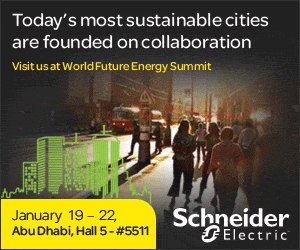 Schneider Electric, the global specialist in energy management, is set to showcase integrated smart city solutions at the World Future Energy Summit (WFES 2015), reiterating its commitment to tackling the world's potential energy challenges.

From its stand no. 5511, spanning 84 square meters in hall 5 of the Abu Dhabi National Exhibition Centre (ADNEC), Schneider Electric will offer visitors a first-hand experience of simulated environments that deploy smart energy, solar, electric vehicles charging solutions, smart water, energy management, smart services and integration.

Schneider Electric representatives will also be at hand to address visitor queries on the key aspects of future cities at WFES 2015 that is scheduled to run from 19 - 22 January, 2015.

Executive Vice President – Strategy and Innovation, Michel Crochon, will cap off Schneider Electric's participation at the event with a thought session on 21st January titled 'From Internet of Things to Internet of Energy'.

Speaking ahead of the event, Benoit Dubarle, Country President – UAE, Oman & Pakistan, Schneider Electric, said: "The UAE has become a unique destination for decision makers to create new opportunities and promote innovation in renewable energy and clean technologies. The renewable energy concept has particularly emerged as a key driver for investments in different sectors across the region and leading to a high uptake of smart energy management solutions. We, therefore, look at WFES as an ideal platform for visitors to gain insights on the future trends in energy management, and a place where decision makers can exchange ideas and initiate proactive changes for the future."

The World Future Energy Summit (WFES) is the world's foremost event dedicated to renewable energies, energy efficiency and clean technologies, hosted by Masdar. Held under the patronage of His Highness Sheikh Mohammed Bin Zayed Al Nahyan, Crown Prince of Abu Dhabi and Deputy Supreme Commander of the UAE Armed Forces, WFES includes a world-class conference, an international exhibition, the Project & Finance Village, the Young Future Energy Leaders programme, as well as a number of corporate meetings and concurrent social events.

In its eighth edition, WFES will present energy sector stakeholders with the unique opportunity to meet with industry peers, exchange technology, share best practice and form business partnerships that will further drive the global effort for a better future.