Taking it to the eXTReme – The standard for 750 XTR
Optimized properties: The WAGO-I/O SYSTEM-750 XTR stands up to temperatures from -40°C to +70°C, is voltage-proof up to 5 kV surge voltage, is immune to interference and is vibration-proof up to an acceleration of 5g.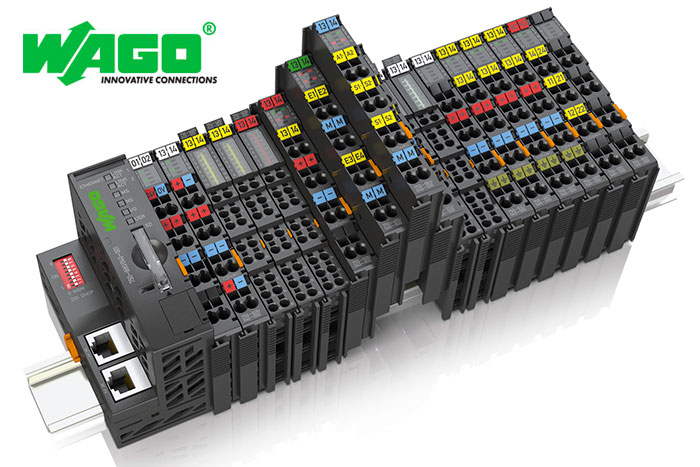 The WAGO-I/O-SYSTEM 750 XTR combines the positive features of the successful WAGO-I/O-SYSTEM with its enduring robustness in tough environments: Extreme resistance to weather, immunity to interference and vibration resistance are central features of the 750 XTR. The system requires little space and is distinguished by low energy and maintenance costs. This, along with the associated optimization of system availability, enhances productivity.
Main areas of use include demanding applications, such as shipbuilding, the onshore/offshore industry, renewable energy systems (wind power, photovoltaic and bio-gas systems), transformer stations and power distribution systems, the petrochemicals industry, the water and wastewater industry or special mechanical engineering applications.
Automation systems are finding increasing use in applications in which widely fluctuating outside temperatures act almost directly on the components. Thanks to an expanded ambient temperature range, the XTR version of the WAGO-I/O-SYSTEM 750 remains dependable, even in temperatures from -40°C to +70°C. A high level of operating safety is provided both with regard to the system's startup response and during operation. No extra air-conditioning components, such as heating and cooling are required. The module's small size also saves space, and the lack of separate air-conditioning components also yields lower energy and maintenance costs.
The WAGO-I/O-SYSTEM 750 XTR can be used at elevations up to 5,000 meters, thus ensuring safe, reliable operation with a high level of performance and availability, even in the thin air of a mountain-based station. Besides classic automation applications, telecontrol solutions can also be implemented using the WAGO-I/O-SYSTEM 750 XTR. The 750 XTR Series telecontroller support the telecontrol protocols based on IEC 60870-5-101/-103/-104, IEC 61850, IEC 61400-25 and MODBUS.
The more stringent withstand voltage requirements based on EN 60870-2-1 – including impulse voltage of up to 1 kV for <60 V modules and 5 kV for ≥60V modules – are fulfilled. The WAGO-I/O-SYSTEM 750 XTR is also impervious to interference. Reduced EMC interference emissions and enhanced resistance to interference from external components provide for smooth, trouble-free operation of production facilities and, thus, for a high level of productivity. Reliable communication with all disciplines is also ensured by this.
The enhanced mechanical strength of the WAGO-I/O-SYSTEM 750 XTR represents a further significant benefit. Thanks to the system's extraordinary vibration resistance of 5g based on DIN EN 60068-2-6 (acceleration 50 m/s²) and a shock resistance of 15g (150 m/s²) based on IEC 60068-2-27 and 25g (250 m/s²) based on IEC 60068-2-29, the automation system can even be used in the direct vicinity of heavily vibrating or shock-generating components such as powerful motors, power circuit breakers, or in a tunnel bore machine.
The WAGO-I/O-SYSTEM 750 XTR is easily recognizable by its dark-gray modules. The system's Spring Pressure Connection Technology makes the use of modular components child's play.
Categories:
26 00 00 - Electrical