Time Relays for Any Application
With a total of five new time relays, WAGO covers all relevant time functions for Interface Electronic.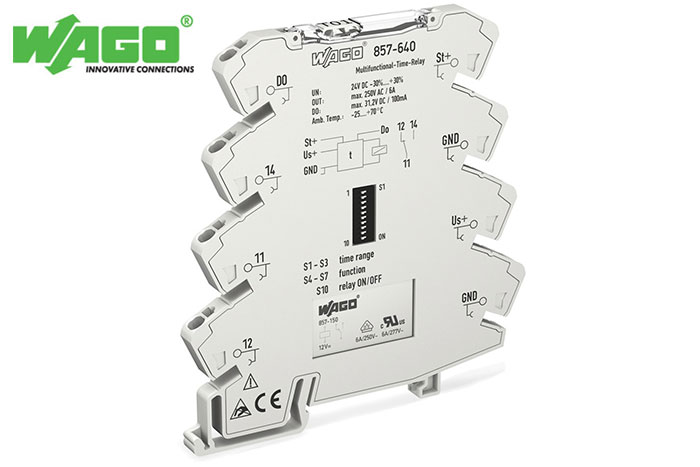 WAGO's new family of products are only 6 mm wide, but have an expanded input voltage and temperature range. Thanks to their uniform contour design, all of the time relays can be jumpered at any clamping point. CAGE CLAMP® S connection technology ensures easy handling and reliable electrical connections. The new components of the 857 Series will become available successively in different designs starting in November 2013: with basic functions and exchangeable mechanical relays (857-604), with basic functions and exchangeable solid state relays (857-624 and -634) and with an integrated relay function with an expanded range of functions and time ranges (857-640 and -642).
Basic Function Time Relays
The three time relays with basic functions can be regulated in four time ranges – from 0.1 seconds to 300 minutes. These relays offer four functions: ON delay, single shot leading edge, ON delay and single shot leading edge, flashing. The relays are configured using DIP switches and potentiometers.
Multifunction Time Relays
The two multifunction time relays go even further, with eight adjustable time ranges – from 0.01 seconds up to 100 hours. These relays are configured using DIP and teach-in switches. The multifunction time relay with an adjustable time (857-640) comes equipped with 13 functions; the multifunction time relay with two adjustable times (857-642) with seven functions. Time functions include: ON/OFF delay with control input and single shot leading and trailing edge with control input.