About Ottocento Antique Velvet
Ottocento Antique Velvet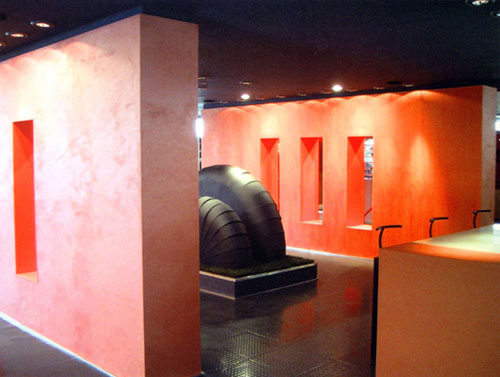 PRODUCT DESCRIPTION
Ottocento Antico Velluto is a wall coating that produces beautiful decorative effects. It is the result of careful research that has llowed the use of new technology to obtain an effect, an antique decor, that seems like velvet. Ottocento Antico Velluto is a unique finish that reproposes the charm of prestigious, velvet tappestries with various decorative effects whilst eliminating the problems of hygiene and maintenance that are symptomatic of fabric.
CHARACTERISTICS
The product is composed of resins, organic, inorganic and special metallic pigments that give the product the iridescence that characterises velvet. Its innovative formula that is totally free of toxic substances, the extensive range of chromatic shades created to reproduce the colours of velvet and its vapour permeability, make Ottocento the ideal product for highly prestigious settings.
Ottocento Antico Velluto is the answer to market demand for a greater number of decorative products for walls and especially for paints that recreate the appearance of precious, antique wall hangings. From the study of 18th century tappestry and the effect of light reflecting off of velvet, together with the careful research of the OIKOS laboratories, it is now possible to decorate interiors with a highly innovative product that creates an incredible visual impact due to its characteristics of catching and reflecting light in the same way as highly sought after velvet. Possible to obtain in different, decorative, variations (Antique Effect, Imperial Effect, Damask Effect and various types of Tapestry finishes) Ottocento addorns walls with a prestigious splendour.
The use of wall fabrics and in particular velvet, is still charming even today. However the high level of dirt retention, the difficulty of application, the costs and the availability of the material mean that today it is no longer feasible. Ottocento, all the beauty of an antique fabric and all the advantages of a light, modern finish. Ottocento Antico Velluto is for those who are looking for the charm and atmosphere created by antique tappestries and wall hangings. Its versatility reproduces the effect of velvet giving interior settings a light, modern, finish that has a taste of the past with the value that is intrinsic in all that is antique.
09 70 00 - Wall Finishes
09 94 00 - Decorative Finishing

Categories: decorative paint, coating, silk velvet finish, vapour permeable coating, metallic pigments, decorative patterns, odourless, non toxic, non flammable.