About Travertino Romano
Travertino Romano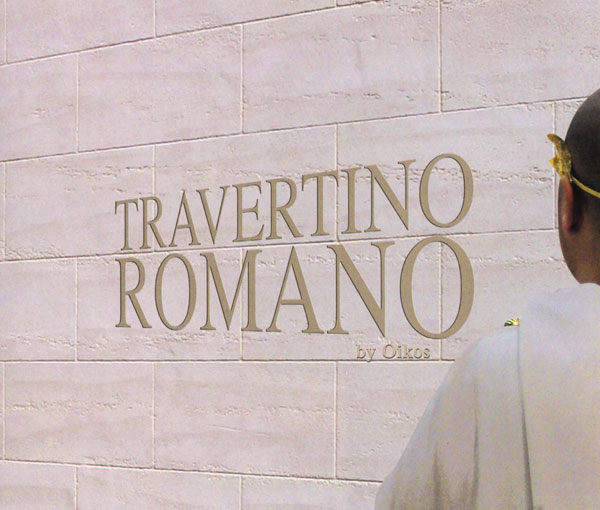 PRODUCT DESCRIPTION
Travertino Romano is an innovative product that allows the recreation of the same aesthetic appearance of Travertine marble used in Roman architecture. The use of particular pigments and used in unison with other products, it is possible to produce a magnificent stone effect with the same coloration, and texture as is found in various types of sandstone, volcanic rock and other types of cut stone.
CHARACTERISTICS
The product is formulated using derivatives of marble stone, transformed into dust and emulsified with special binders. Travertino Romano is a thick wall coating that takes on the appearance of cut stone, thus substituting the often costly and complex application procedures of real stone, with an easy to apply coating. The characteristics of the product insure that it bonds well with every type of wall surface both interior and exterior, recreating, through the trowel application and the talent of the master applicator, the effect of Travertino stone. The product guarantees a high level of vapour permeability, is water repellent and prevents the formation of mould and algae.
Travertino, used through the ages, is an elegant stone, often used in elegant architectural projects that varies in colour according to the quarry from where it is extracted. These light shades are a prime characteristic of this stone that adds to its prestigious appearance. Travertino Romano, with its range of finishes, recalls the antique tones highly sought after by the Romans and presents modern architecture with an elegant treatment for wall surfaces. Many have defined Travertino Romano as "the product they were waiting for" for its elegance and its versatility but above all for its ease of application to reproduce various types of natural stone with the advantage of greatly reduced costs.
What are the ideal uses for a natural stone finish? From exterior facades of historical buildings to the interiors of modern hotels, restaurants and elegant offices, Stone has always been widely used on some of the most famous wall surfaces around the world. Today, those who are searching for the charm of natural stone, can find it epitimised in Travertino Romano A product that has all the beauty of stone, with the advantages of a lightweight, modern, easy to apply coating with a wide range of finishes so that every environment can have its "own" Travertino.
09 70 00 - Wall Finishes
09 94 00 - Decorative Finishing

Categories: paint coating decorative natural stone finish travertine travertino interior exterior sanstone.