About AMF TOPIQ Soft Board
AMF TOPIQ Soft Board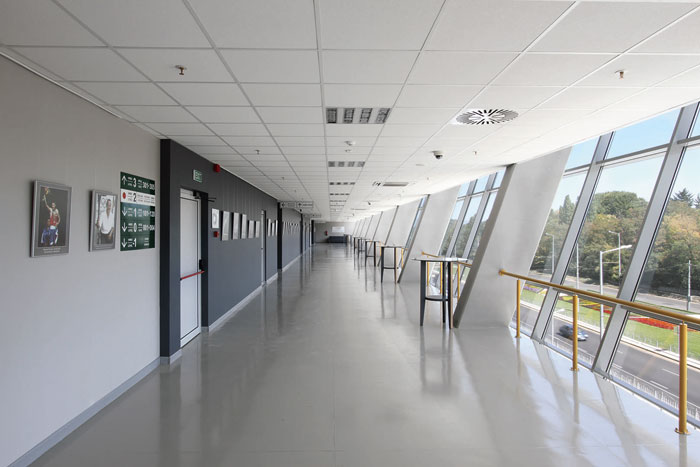 With the launch of the soft board product range, Knauf AMF takes a further step in the direction of complete system solutions provider for modular ceilings. Our established expertise as an innovative ceiling manufacturer is further expanded and our application-orientated solution approach strengthened.

The technology of the product brand AMF TOPIQ® is based on fleece laminated mineral tiles with an all over finish for a diverse range of room requirements. The standard finish consists of a fleece coating on both sides with the face and edge areas additionally provided with a high quality colour coating.

The products in the soft board range impress primarily with their low weight, easy handling, very good humidity resistance and excellent sound absorption.

Product properties and advantages:

High sound absorption
Low weight
"Easy installation and processing
Reversible
Flexible and form stable
Very good humidity resistance
Easy to clean
The AMF TOPIQ® Startup Package:
Functionality and Acoustics
TOPIQ® Prime
TOPIQ® Efficient pro
Hygiene and Acoustics
TOPIQ® Efficient pro Hygena
Ceiling rafts and Design
The right solution for all requirements
Sound absorption
When a sound wave meets an object, part of the sound energy is reflected and the other part absorbed. Sound absorption refers to the reduction of sound energy in a room through a sound wave losing energy through component surfaces. Thus, it determines the acoustic well-being of a user in a room as it shortens the reverberation time, reduces the noise level and increases speech intelligibility.

Humidity resistance
Humidity has a significant impact on the stability and structure of a mineral tile. Therefore, rooms regularly submitted to high humidity should be installed with a ceiling tile with a humidity resistance of > 90%.

Light reflection
In addition to their acoustic properties, wall and ceiling tiles also have an impact on light reflection. Materials with high light reflection facilitate the effective use of natural light and artificial lighting and reinforce the effectiveness of indirect lighting.

Sound attenuation
Good sound attenuation counteracts external acoustic influences that are transmitted via adjoining building components – such as ceilings – into neighbouring rooms and is therefore an important contribution to sound protection.

Washability
Wiping with a damp cloth ensures surface cleanliness. In order for surfaces to be clinically clean, they must have the ability to be wet washed. Moreover, the chemical resistance in terms of cleaning, process and disinfection reagents is especially important.

Design
For rooms in which people reside for long periods of time, attention should be given to the design as well as the acoustic performance, in order to create a harmonious and relaxed ambient.

News archive:
Knauf AMF Launches New Soft Board Product Brand AMF TOPIQ (13 Oct 2015)
09 50 00 - Ceilings
09 51 00 - Acoustical Ceilings
09 54 00 - Specialty Ceilings
09 57 00 - Special Function Ceilings