A year of double celebration for Gyproc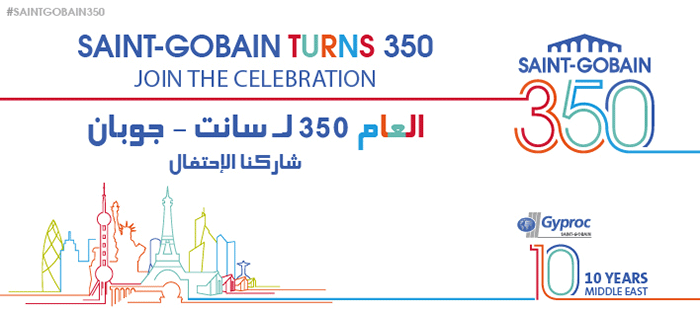 2015 will be a year of double celebration for UAE based gypsum and plasterboard manufacturer, Gyproc.

Not only does 2015 mark the company's 10th Anniversary in the region, but for parent company, Saint-Gobain it also marks an exceptional milestone, as it prepares to celebrate 350 years since its creation by France's King Louis XIV and his Minister, Colbert.

Formed in 1665 as a specialist mirror glassworks to rival Venice's supremacy in this increasingly popular and very fashionable area, Saint- Gobain today retains its position as Europe's leading glassmaker. Diversification into other areas including insulation, cast iron pipes, high technology abrasives, ceramics and plastics, building distribution and, more recently, plaster, plasterboard and industrial mortars has, however, enabled it to claim its position as the world leader in the habitat and construction market.

With almost 190,000 employees worldwide, Saint-Gobain designs, produces and distributes an exceptional portfolio of innovative construction materials from operations in 64 countries.

10 years ago, recognising the amazing growth potential and unique nature of the Middle East construction market, the company set up its first local operation in Dubai to develop the market for modern lightweight construction systems and techniques. The operation became so successful that, in 2010, Gyproc opened its first state-of-the-art plasterboard manufacturing facility in Dubai.

Whilst Gyproc is planning a range of events to celebrate its 10th Anniversary in the Middle East, the company will also be participating in an extensive programme of events to celebrate the Group's 350 year history, which started with a launch event in Shanghai on January 9th.

Included in the programme are a number of futuristic traveling pavilions to showcase the group's capacity for innovation and exceptional expertise in construction materials; a virtual exhibition in 5 languages, charting the company's history and development; a special anniversary book; a free digital 'World 350' game that will challenge players to build houses on planet World 350; and lastly, an anniversary day that will be celebrated by all employees worldwide on October 15th.

According to Paul Button, Managing Director at Gyproc Middle East, Saint-Gobain's presence in the Middle East has not only brought a world of construction expertise and innovative solutions to the local market, but has enabled Gyproc to develop local expertise and knowledge and build relationships with customers, specifiers and stockists throughout the region. "We will be continuing to work closely with our customers throughout 2015 to build a strong platform for development for the next 10 years", he said.
Categories: