Middle East White Book now even better
Just 3 years after Gyproc developed the first ever White Book drylining guide specifically for the Middle East Market, the company has now published an updated version with more leading edge products, more solutions, more installation advice, and more details and drawings to make choosing and specifying plasterboard partition, ceiling and lining systems even easier.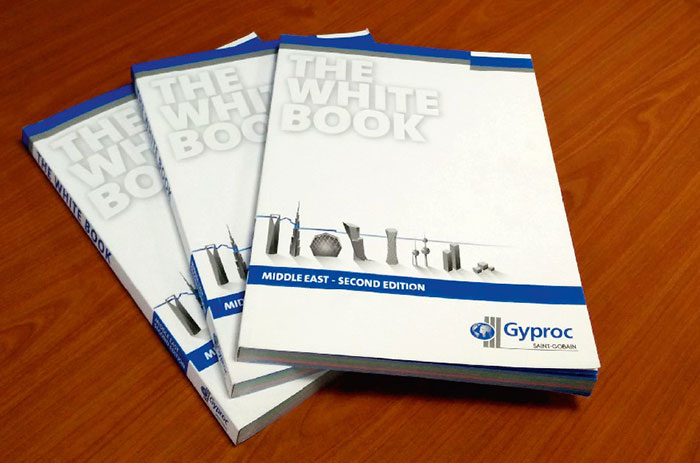 The 200 page-plus guide, which has already proven to be an invaluable tool for the region's architects, design consultants and leading building professionals, is modelled on its multi-award winning UK counterpart, which has now been published continuously for almost 40 years, and is regarded as one of the construction industry's definitive publications.

Gyproc's team of technical and design experts, working alongside colleagues from Saint-Gobain Gypsum, the world's leading supplier of modern, lightweight drylining systems, have taken more than 12 months to bring together the latest product performance data and design guidance on key areas including fire performance, acoustics and sustainability – areas that are now critically important to the growing Middle East construction sector.

The new guide, which has been designed for quick and easy reference, contains detailed specification and installation data on the full range of popular partition and lining systems, from the basic GypWall CLASSIC partition, to high performance acoustic wall and lining systems such as GypWall AUDIO and new perforated ceiling panels, as well as the full range of GypFine finishing plasters and the ground-breaking range of Activ'Air linings, designed to passively reduce indoor air pollution.

According to Gyproc Managing Director, Paul Button, the new guide has come at a time when demand for system information is at an all-time high. "With the industry now under pressure to deliver an unprecedented volume of more sustainable and better performing hotels, hospitals, schools and other buildings ahead of Expo 2020, the market is increasingly turning to lightweight systems as a means of increasing build speed and cutting cost – whilst providing ever more stringent standards of performance in areas like fire and acoustics.

"Although the White Book is obviously a major commitment for Gyproc, both financially and in terms of expert manpower, we believe, as market leader, that we have to make available the most comprehensive and highest quality information to support our customers, where and when they need it".

Printed copies of the all new Second Edition Middle East White are now available to order, and a digital version, designed for use on smartphones and tablets, can be downloaded free from the company's website www.Gyproc.ae.

To request for a printed version, please send a request to Gyproc-me@saint-gobain.com with your complete contact details.

Categories: