About Design Showers
Design Showers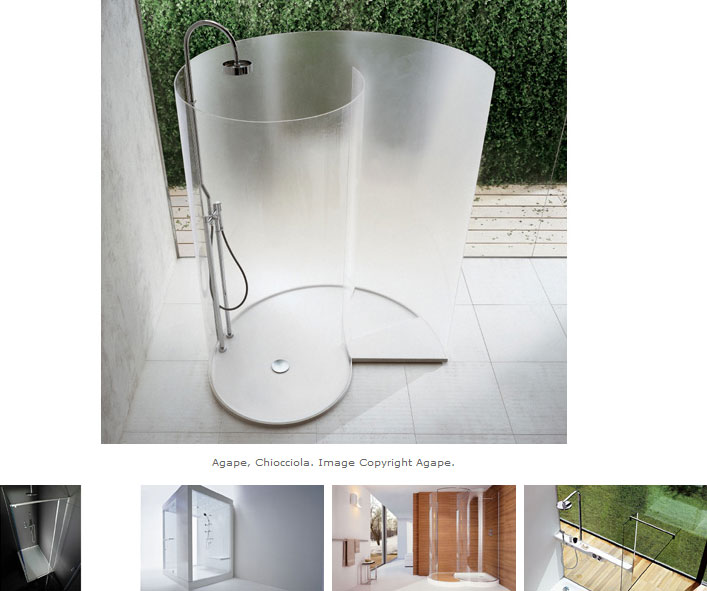 The purity of crystal and the innate elegance of aluminium. A creative dialogue between two of the materials which most characterise shower cabins, capable of bringing to life the refined play of reflections and unexpected shafts of light. The last generation showers are true architecture for the bathroom environment: strong signs of design, top furnishing elements for anyone dreaming of a design oriented home. And, as well as the aesthetic aspect, new shower cabins are equipped with any comfort the imagination can suggest: from a Turkish bath to hydromassage, from colour to aromatherapy, even to stereo systems equipped, of course, with MP3 readers.Shower trays on line with the floor. In an environment such as the bathroom, where nothing can be left to chance, the choice of shower trays also becomes central. It is obvious that the most elegant, functional trays are, far and away, those which are level with the floor. This is why, nowadays, numerous companies are producing an extensive, broad range of shower trays level mounted with the floor, which are created using the most disparate materials (including stainless steel, glass, wood and ceramic) and which have a series of functions enriching their charm, such as lighting or colour therapy.

10 21 00 - Compartments and Cubicles
10 28 00 - Toilet, Bath, and Laundry Accessories
12 44 00 - Bath Furnishings

Categories: design showers, shower cabins, bathroom furnishings, turkish bath, hydromassage, aromatherapy, shower stereo systems, showers, makro, kos, calibe, cesana.