Diamonds in the Sky Faux Leather Decorative Ceiling Tile
While the two versions of our DCTLRT19 Diamonds in the Sky faux leather decorative ceiling tile are as different as night and day, they are equally stunningly sparkling and beautiful. The deep black version is dark, sophisticated, and romantic, and the snowy white version is clean, crisp, light, and airy. Both versions feature nine puffy pillows of faux leather dotted with a tiny shimmering glass crystal square. Each type provides all the benefits of the faux leather material, such as sound absorption and easy maintenance. With the DCTLRT19 Diamonds in the Sky tile, you will feel as if you are relaxing under the beautiful canopy of shimmering stars.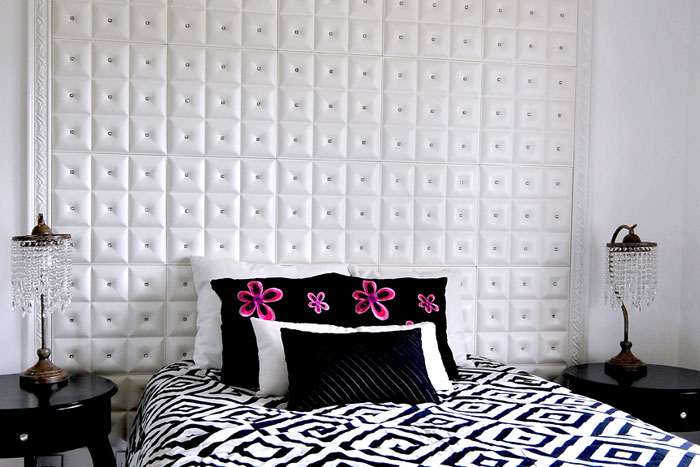 It is an immitation of Leather and it is to be used on ceilings and walls for decoration and soundproofing.

Size - 15 3/4" x 15 3/4"
Fire Rated
3-layers
Top layer - water and fire proof Polyurethane.
Filler – sound/water proof fire resistant Polyurethane.
Back board - fire and sound proof PVC.
Download Fire Rating Certificate
Download Green Leaf Certificate
How To Install Faux Leather Wall Panels
Shipping
- Calculated at checkout
Size
: 15 3/4" x 15 3/4"
Depth
: 1 1/8"
Weight:
1.75lbs
Material: Faux Leather
Coverage:
1.72 sq. ft.
Style:
Modern
Installation Method:
Glue-up (Instant Grab #310)