Euroclima at Bologna Airport
Euroclima is a leader in customized air conditioning and ventilation systems and a specialist in the development, manufacture and commercializing of high quality air handling products for all applications, from basic comfort to health care and industrial processes.
Euroclima is a company with extensive European operation facilities located in Italy and Austria. In the last 50 years, Euroclima has shipped more than 100,000 units all over the world from 1.000 to 600.000m³/h and was chosen as the manufacturer of the air handling units for the expansion of Bologna Airport.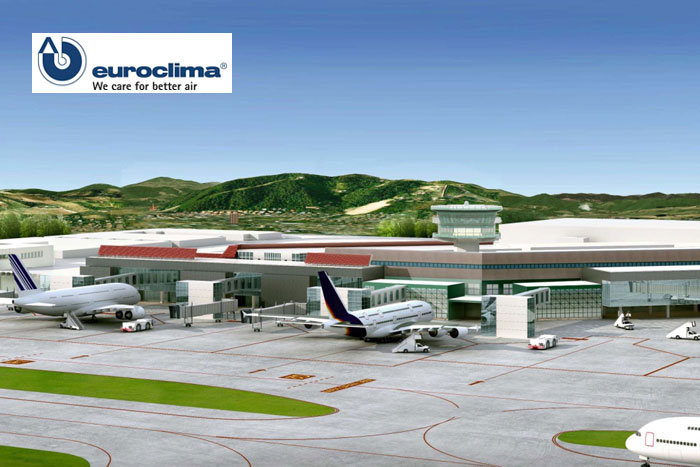 Bologna's airport is officially known as the Guglielmo Marconi International Airport (BLQ) and was named after the acclaimed Italian inventor Guglielmo Marconi (1874-1937). Famous for his part in developing wireless telegraphy, Marconi was born close to Bologna and educated in the city.
In light of the increased passenger traffic to more than 5 million passengers per year, and the further anticipated increase in air traffic, the Bologna Airport needed to expand and refurbish the passenger terminal. At the end of these works of restyling and expansion, the new structure will be larger and will offer new services and an improved quality travel experience. Step-by-step actions and gradual transformations will guarantee a constant level of service while work is in progress.
The site of Bologna Airport covers an area of 2.450.000 sqm and boasts a newly extended 2,800 meter-long runway, which was opened in July 2004.
Air Terminal Facts and Figures
Ground Floor : 19,500 sqm
First Floor : 14,500 sqm
Second Floor : 10,770 sqm
Control Tower : 610 sqm
Boarding Area : 1
Gates : 20
Check-in Areas : 2
Check-in Counters : 57
Units Installed : 24 ZHK 2000
Total Air Flow : 206.350m3/h
The supplied Air handling units are made of housing assembled with self supporting modular panels with base frame integrated into the unit and aluminium profiles along the upper sides of the unit. The inside and outside walls are completely smooth.
The 50 mm thick double skin panel contains glass fibre insulation, complying with fire protection class 0 of ISO 1182.2 and class A1 of DIN 4102. The fibre glass guarantees an optimal thermal and acoustic insulation.
The air handling units are equipped with large dimension access doors in same thickness and execution as the panel. In addition, the door frame is made of aluminium with special rubber seals and welded corners, adjustable hinges, and safety locks. The doors are foreseen for fan- filter- and humidifier sections.
Eurovent Certified data of AHU casing conform to EN 1886

Casing strength: class D1
Casing air leakage at –400 Pa: class L1
Casing air leakage at +700 Pa: class L1
Filter bypass leakage: class F9
Incombustible fibre glass insulation thickness 50 mm

Performance data certified in compliance with DIN EN 13052
Heat exchangers certified in compliance with EUROVENT Rating Standard 6/C/005/2009.
Base frame made of galvanized sheet metal, hot dip galvanised or painted steel profiles for great units