About FLIR DM284 Imaging Multimeter with IGM
Brochures

FLIR DM284 Imaging Multimeter with IGM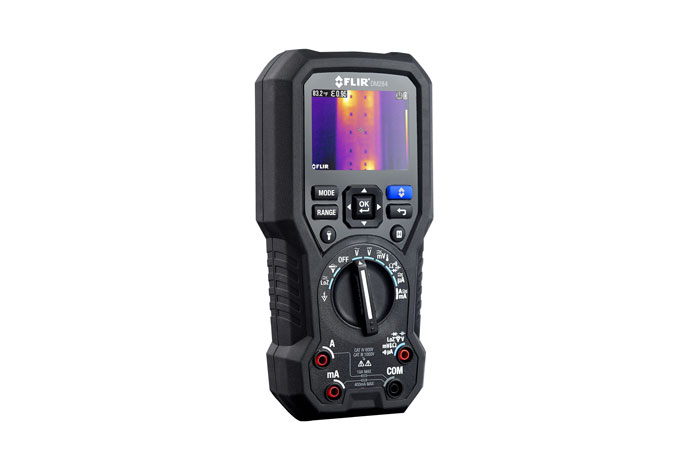 The FLIR DM284 Imaging Multimeter with IGM is a professional, all-in-one True RMS digital multimeter and thermal imager that can show you exactly where an electrical problem is to speed up troubleshooting. Featuring Infrared Guided Measurement (IGM) technology powered by a built-in 160x120 FLIR thermal imager, the DM284 visually guides you to the precise location of an electrical problem, helping you pinpoint hot spots faster and more efficiently.

TROUBLESHOOT FAST WITH IGM™
Instantly spot electrical issues and get more done with the 160x120-resolution FLIR thermal imager. Plus, the all-in-one tool is convenient to carry on you so you always have access to thermal imaging.

SOLVE CHALLENGING PROBLEMS EASILY
Featuring 18 measurement functions including True RMS, LoZ, and NCV, you can verify potential issues with trusted readings every time – even for the most complex measurements. The DM284 also includes a thermocouple input and allows you to view thermal and electrical measurements simultaneously.

FUNCTIONAL DESIGN
The simple user interface is intuitive to use and the thermal camera features 3 color palettes to choose from. Built-in worklights and a laser pointer help you access difficult locations with lighting issues and pinpoint the location of the problem in the thermal image.

Features
IGM™
A built-in 160x120-resolution thermal camera sensor visually guides you to an electrical problem

Smart design and functionality
Intuitive user interface, large display screen, onboard laser pointer, LED worklights

18 measurement functions
Performs 18 measurement functions including True RMS, VFD mode, LoZ, NCV, and more

Durable
Drop-tested and IP rated for splash and water resistance

Thermocouple input + test probe
The DM284 includes high-quality test probes and a Type K thermocouple input

Warranty
Includes 10-year warranty

News archive:
New Imaging All-in-One Multimeter for Safe & Effective Inspection (8 Nov 2016)
02 25 00 - Existing Material Assessment
02 32 00 - Geotechnical Investigations
07 00 00 - Thermal and Moisture Protection
07 20 00 - Thermal Protection
07 21 00 - Thermal Insulation
21 00 00 - Fire Suppression
22 00 00 - Plumbing
23 00 00 - Heating, Ventilating, and Air Conditioning (HVAC)
40 41 00 - Process Piping and Equipment Heat Tracing