Gyproc supports new Mall of the Emirates expansion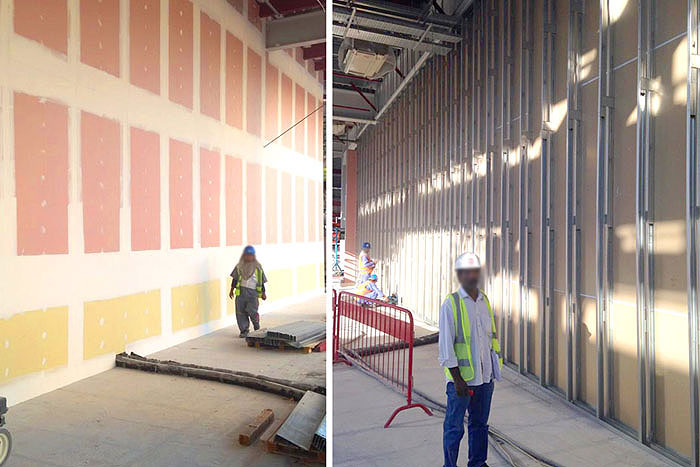 Twin frame high performance separating walls from Dubai-based Gyproc Middle East, have been specified to meet demanding fire safety and sound reduction standards throughout the new $270 million expansion of Dubai's Mall of the Emirates retail complex.
The redevelopment project has been dubbed 'Evolution 2015' because it will completely transform the Mall, adding a new 24-screen Vox Cinema, 12 restaurants and a new car park to accommodate 1300 vehicles, as well as completely redefining and elevating the existing lifestyle stores into a new and inspirational 'Fashion district'.

The system used, GypWall QUIET, is a high performance twin metal frame separating wall developed specifically for busy residential and commercial applications requiring high levels of performance in multiple areas. It is being used to provide acoustic separation between retail units, and between the units and noisy areas, such as corridors and restaurant areas. With a double layer lining of 15mm Gyproc FireStop plasterboard to each face, the system will not only meet the demanding Rw60dB acoustic performance required, but will provide 120 minutes fire resistance and BS5234 Severe Duty impact performance, ensuring fire safety and damage resistance for the busy, high traffic malls.

Technical and site experts from Gyproc have been on hand to support the architects and contractors throughout the complex construction, providing design advice and intricate technical details, including a bespoke suspended solution for the shop fronts, to ensure that the building fully meets all of the clients requirements.

This massive project, providing one of the largest single site orders to date for Gyproc's GypWall QUIET system, is an important element of the Dubai Fashion 2020 initiative, designed to establish Dubai at the forefront of fashion retailing throughout the UAE.

Categories: