Gyptone Quattro 70 Launched
Gyproc's new Quattro 70 brochure is designed to inspire architects and interior designers with the breadth of excitingly different interiors that can now be achieved using the company's new smooth and sleek Gyptone Quattro 70 acoustic ceiling system.

Unlike other highly patterned products in the Gyptone range, new Gyptone Quattro 70 features a regular pattern of fine micro perforations, measuring just 3mm x 3mm. The barely visible perforations combine with a special acoustic felt backing to achieve very high levels of acoustic absorption whilst maintaining a smooth, light aesthetic.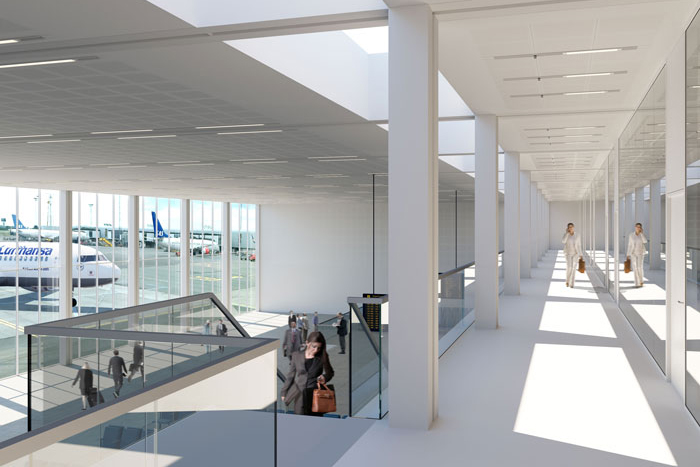 The Gyptone Quattro 70 range allows 600 x 600mm tiles to be combined with BIG boards for even greater design flexibility. These robust and hardwearing 1200mm x 2400mm finely pattered acoustic boards are equally at home on ceilings and walls, allowing designers to create a fully integrated smooth and neat room interiors with exceptional acoustic properties. They can be easily cut to accommodate lighting and other fittings and are designed for simple jointing to create large, monolithic areas of smooth, seamless wall and ceiling.

The design is also available in Plank format to enable matching fully demountable ceilings to be created in corridor areas, and includes a high quality matching access panel that will maintain acoustic performance whilst enabling full access to underlying service installations.

Ideally suited for walls and ceilings in schools, offices and businesses, as well as hotels, restaurants and public buildings, Gyptone Quattro 70 provides new and exciting design possibilities for any environment where aesthetic design and great acoustics are key. The easy-to-clean surface can be decorated without loss of performance, and is tough and durable with a long service life, making it a perfect low maintenance, economical solution for more demanding high traffic applications.

Throughout the brochure, a range of inspirational photographs of real installations have been used to demonstrate the flexibility of the new system in different wall and ceiling applications.
Categories: