Knauf signs investor partnership agreement with Dubai Quality Group
Knauf, the multinational company and one of the world's leading manufacturer of building materials, construction systems, has signed an investor partnership agreement with Dubai Quality Group (DQG).

The partnership aims to activate fruitful cooperation between both parties to foster quality, business excellence, innovation, technology performance, and leadership in the construction technology. In line with the vision of His Highness Sheikh Mohammed bin Rashid Al Maktoum, Vice-President and Prime Minister of the UAE and Ruler of Dubai, by making the UAE the most innovative country in 2021.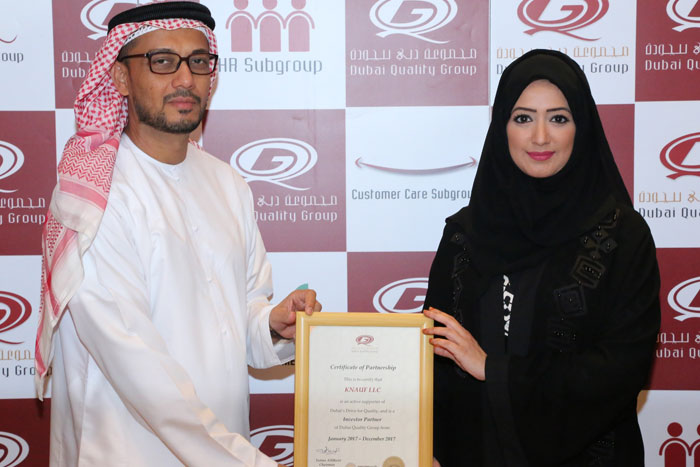 The agreement signing ceremony was attended by senior officials from both parties. The delegation from DQG was headed by Fatma Buti Al Mheiri, Chairman, Dubai Quality Group, who handed over the Certificate of Investor Partnership to Amer Bin Ahmed, Chief Executive Officer, Knauf LLC, in appreciation for its investment in DQG's strategies and initiatives. The ceremony was also attended by Ghassan Ibrahim, Specification Manager, Knauf LLC, and Nitika Datt, Assistant Marketing Manager, Knauf LLC. The delegation from DQG included Gishu Damodaran, Financial Controller, and Saleel Shinewi, Subgroup Coordinator, DQG.

This strategic partnership was signed as a part of their mutual association and under the framework of both parties' efforts to develop quality and business excellence, in terms of enhancing the quality of the construction technology, and implementing the latest initiatives and strategic plans focused on improving performance levels of construction technologies.

The investor partnership between both parties aims at enabling the transfer and exchange of expert knowledge, experiences, best practices, ideas, and the expansion of optimal & productive cooperation.

Fatma Buti Al Mheiri, Chairman of DQG, said: "Partnering with Knauf will add value to DQG, and give them a unique opportunity to make sure that they have the knowledge that can help them way forward. We are keen to conduct this partnership to highlight our pursuit of consolidating, developing and promote quality and business excellence practices in UAE. This reflects our commitment to support the vision of the UAE leadership providing the best of construction technologies that ensure happiness of customers. It gives us significant leverage to develop and introduce new concepts and ideas that will further consolidate UAE's reputation as a leading innovator in the construction filed. Our goal from the partnership is to help the entities implementing the latest practices.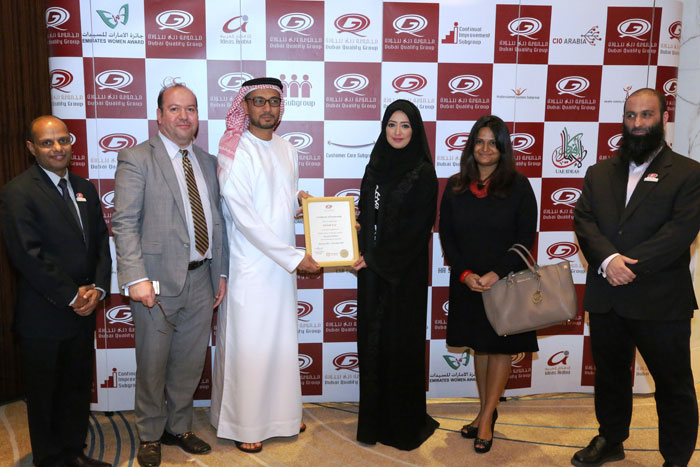 This partnership has been signed with the objective of providing more towards meeting the requirements in improving performance at the organizational level. Through the investor partnership with Knauf, we look forward to further strengthening our collaboration toward implementing excellence standards and practices at professional levels."
She added, "Dubai Quality Group is strongly committed to promoting quality and business excellence in this key sector and ultimately establishing a strong foundation that would underpin the long-term growth of construction."

"Collaborating with Dubai Quality Group has been one of our ways of expressing what emphases quality holds for us as an organization. Our Quality policy states that we have zero tolerance for lack of quality and are therefore glad to partner with Dubai Quality group to take forward there expertise" Says Amer Bin Ahmed – Managing Director, Knauf GCC and India"

Dubai Quality Group invites the government and private entities to partnership in order to benefit from what it has to offer in terms of improving Quality & Business Excellence. These partnerships will enhance cooperation among government and private entities by provide a platform for knowledge and information exchange, which will in return have a positive impact on the business environment. The partnership will also increase the scale and speed of innovation and creativity implementation at the partnering entities.

DQG's partnership is particularly beneficial to the entire business community, as it provides direct access to a wide range of resources and information that are essential in maintaining focus towards achieving quality and excellence.