About Glass Handling Equipments
Brochures

Glass Handling Equipments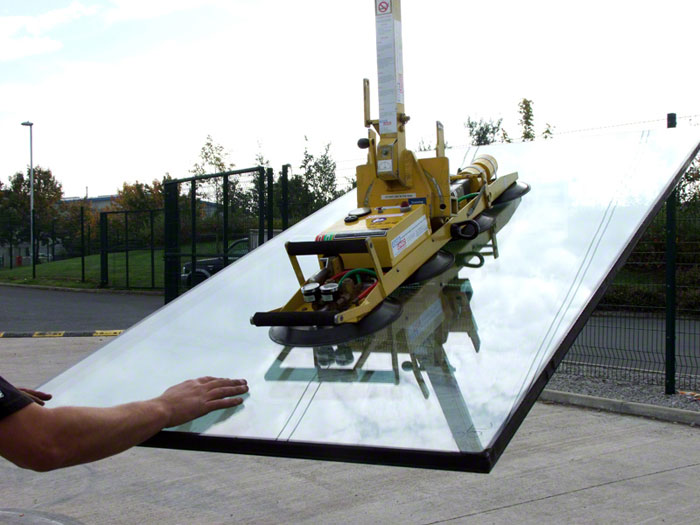 Orientals Specialist Lifting also serves as an exclusive agent of GGR Group, the leading European supplier of vacuum handling equipment in the Middle East. Our range of Glass handling equipment includes Glass Vacuum Lifters, Glass Handling Robots and Galizia Pick and Carry Cranes. These are very versatile in nature, offers strength and safety when lifting large and heavy objects. Moreover, these lifter equipment are well-engineered and tested for durability and reliability. The latest safety system includes low vacuum indication, vacuum reserve tank, one-way valve and automatic pump actuation. With its modern electronics, precision-engineered and reliable components, vacuum lifters are now used across the world for lifting a wide variety of materials.
Glass Vacuum Lifters makes glass lifting effortless with its leading range of vacuum suction lifters, thus, removing strain of manual handling. Regularly used in construction, manufacturing, subdivision houses, buildings, restoration and a lot more. It can be modified to offer you personalized solution for your applications. Specialized machines are also available, designed to handle concave and convex surfaces as well as irregular shapes. When handling a glass, the support pad frame supplies are equally important. Load capacity ratings includes safety factor to cover most variations in slip resistance due to contamination on the glass or pads and weight magnification which may occur when cranes or hoists do not operate smoothly.
An award-winning range of Glazing robots and overhang beams offers unique solution to the most challenging varnish and curtain-walling projects. It can access difficult reach areas and allow glass installation from the inside out. The Robots allow contractors to meet the architectural trend for even larger and more complex glass structures. The Robots provide excellent self-propelled maneuverability to get into the position and unrivaled reach and handling to lift and fits. The Overhang beams can cause a huge obstacle to the timely completion of curtain walling project. At lower levels or where inside-out glazing is feasible, a glazing robot could well be the answer. However, for high-level installation where interior work is impossible, an overhang beam provides an ingenious solution. Overhang beams are available in a range of capacities and extensions, these can also be engineered in order to meet your particular requirement.
Galizia Pick and Carry crane is perfect for lifting, carrying and placing heavy items in confined areas. It can lift ranging capacities from 2-25 tons and a maximum working height of 15 meters. It is suited also for machinery removal and relocation as well as general industrial lifting. This crane is equipped with diesel engine and is battery-operated, making them pollution-free and appropriate for work in sensitive or congested environments. Furthermore, Pick and Carry cranes can move quickly around site in workshops, factories, aircraft shelter or even in outdoor environments like harbour and port.


01 54 00 - Construction Aids
01 54 13 - Temporary Elevators
01 54 16 - Temporary Hoists
01 54 19 - Temporary Cranes
01 54 23 - Temporary Scaffolding and Platforms
01 54 26 - Temporary Swing Staging
01 54 00 - Construction Aids