About Artistic Mosaic
Artistic Mosaic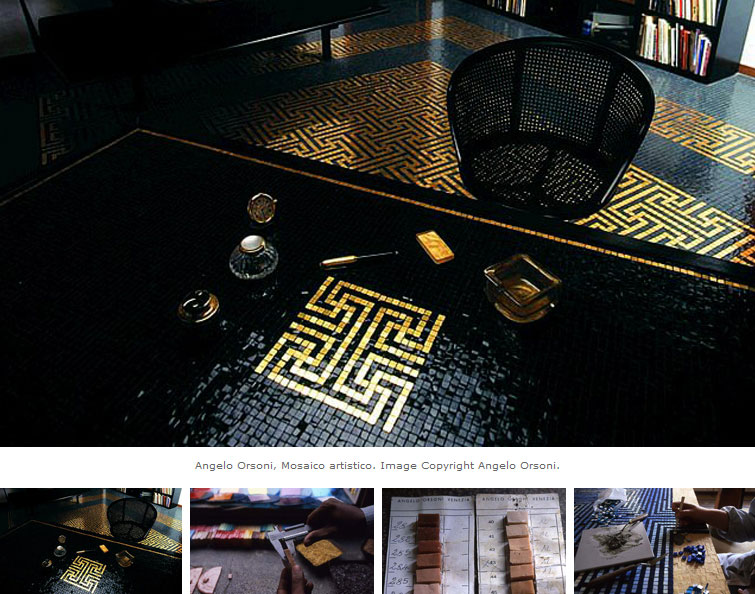 The Angelo Orsoni furnace at Cannaregio, Venice, is a charming laboratory in which four generations of a family have been involved in bringing the antique works of Byzantine sheet of gold mosaic and the enamels of the Murano Renaissance back to life. Despite the rhythm of craftwork, the foundry daily produces coloured and mosaic glazes in the hundredweight, these used to decorate very famous works of art (from the Basilica of the Sacré Coeur in Paris to the Sagrada Familia in Barcelona), private spaces and town and public areas. The "library of colour" alongside the foundry also bears witness to the Orsonis' passion for the art of mosaic, preserving an impressive number of tones and shades capable of satisfying the most fervid imaginations. Artistic mosaic: Alongside computer-designed mosaic, is a family of tesserae which it is no exaggeration to call "artistic": collections developed within laboratories where incandescent kilns and rollers for flattening the glass paste tell of the work of skilled craftsmen who proudly avoid any industrial logic. Artistic mosaic is produced manually by great masters of mosaic who direct their abilities with mosaic to creating series which are exclusive and unrepeatable. Tesserae with infinite possibilities for composition, put together for contrast or to recall colours, capable of bringing to life kaleidoscopic spaces in which the light too reflects on the tesserae, helping create the enchantment of an environment touched by art.
09 30 00 - Tiling
09 33 00 - Conductive Tiling
09 60 00 - Flooring
09 63 00 - Masonry Flooring

Categories: artistic mosaic, orsoni, tiles.