About Criocabin Special Custom Serve-Over Esprit Display
Criocabin Special Custom Serve-Over Esprit Display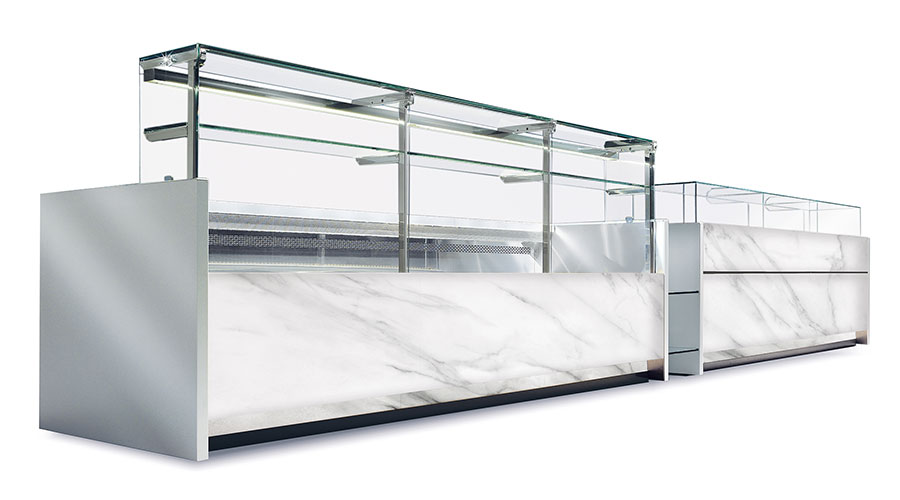 DESIGN
Designed for fast & fresh food.
Esprit refrigerated display case has been designed, in every detail, to meet a new way of approaching fast food. A clean and elegant design, from the straight glass that can be opened from the front to facilitate self-service, to the rear sliding doors that make it easier for staff to replenish their supplies. Its essential lines allow it to fit in perfectly with the interiors of any room.



VERSATILITY
A solution for a variety of catering concepts.
Esprit is an assisted service counter that can become a self-service counter: indeed, it is available with sliding rear doors in Thermopane glass and with front openings for free service. It is the ideal solution for different catering concepts: food bars and breakfast rooms, refrigerated chocolate shops, pizzerias and bakeries. Particularly ideal for self-service restaurants that need to interface with the kitchen or for a quick refill of ready meals, hot or cold.


Hot & Cold
Not only refrigeration.
Thanks to the H-Combi system, Esprit is also available in a hot ventilated version. It is equipped with a display area with gastronomy trays, an upper heat light and an internal tray for water evaporation with dedicated control.

Remote monitoring thanks to NUCLEUS and the Easy Touch Control system.
Worktop in stainless steel
Optimum display thanks to 4000°K LED lighting.

11 21 00 - Retail and Service Equipment
11 25 00 - Hospitality Equipment
11 40 00 - Foodservice Equipment
11 41 00 - Foodservice Storage Equipment
11 46 00 - Food Dispensing Equipment